25 Famous Mugshots: Shocking Celebrity Arrests
These famous mugshots span many years of gangster shootouts, musician drug busts, and celebrity arrests. Take a spin through these captivating images — you'll see some of the most notorious and infamous booking photos ever taken by police and prison photographers.
History's Most Famous Mugshots
Celebrities are not immune to stepping over the line when it comes to the law. Often it's their wealth and party lifestyle that trips them up. Or in the case of the seasoned gangster, the law just eventually catches up. Let's take a look at the 25 most famous mugshots of all time.
Famous Mugshots of Musicians
1. Johnny Cash
Date: October 4, 1965
Location: El Paso, TX
Reason for arrest:
Johnny Cash is famous for his live concerts at San Quentin and Folsom Prison. But not many people know he spent very little time behind bars himself. The Man In Black was busted seven times for minor crimes like public drunkenness and reckless driving. The most notorious of his arrests came in El Paso, where he crossed over into Juarez, Mexico to purchase amphetamine drugs illegally. It was his second arrest that year, after being locked up for a night on charges of public drunkenness in Starkville, Mississippi.
2. Jim Morrison
Date: March 1, 1969
Location: Miami, FL
Reason for arrest:
As these mugshots attest, the Doors frontman was no stranger to entanglements with the law during the 1960s. One famous incident occurred during a concert to kick off the band's 1969 tour at Florida State. At one point in the show, Morrison stood onstage making lewd gestures and shouting profanities. Local authorities charged him with public exposure and profanity. Before he could appeal the charges, the 27-year-old singer died in his Paris apartment—likely from a heroin overdose.
3. Prince
Date: March 29, 1980
Location: Jackson, MS
Reason for arrest:
Back in Prince's early days of touring he and band member Dr. Fink were arrested for stealing airplane equipment. Specifically, an emergency bullhorn. The band was opening for Rick James and Dr. Fink thought they needed a megaphone to use onstage. Fink noticed an emergency bullhorn in the overhead bin of the plane. He grabbed it and tucked it in his bag. A witness alerted Sky Marshalls, who searched and found the stolen bullhorn. Not wanting Dr. Fink to take the hit alone, Prince volunteered that he was part of the crime.
4. Tupac Shakur
Date: March 8. 1995
Location: Brooklyn, NY
Reason for arrest:
Tupac Shakur, known as one of the greatest rappers of all time, was arrested for sexually abusing a 19-year-old woman in a Brooklyn hotel room. The woman claimed she was attacked by the rapper and three others. Shakur was found guilty of first-degree sex abuse in the case. But he only spent 8 months of his sentence in jail; Death Row Records CEO Suge Knight posted his $1.4 million bail. The deal was done in exchange for three Tupac albums under Knight's Death Row label.
You might like 10 Scary Urban Legends.
5. Michael Jackson
Date: November 20, 2003
Location: Santa Maria, CA
Reason for arrest:
Michael Jackson was arrested for child molestation in 2003, accused of sexually abusing a 13-year-old boy. A documentary film, Living with Michael Jackson, created a furor over the King of Pop's conduct with under-age males at his Neverland Ranch. He stood trial for the accusations and was ultimately found not guilty in 2005.
6. Mick Jagger
Date: February 12, 1967
Location: Brixton, England
Reason for arrest:
This famous mugshot of the 23-year-old lead singer of the Rolling Stones was taken after he was busted on a narcotics charge in 1967 along with band-mate Keith Richards. Both were hauled in when cops raided Richards' country home on a tip that there was drug use at a party there. Mick spent a few nights in the clink before posting bail.
7. David Bowie
Date: March 25, 1976
Location: Rochester, NY
Reason for arrest:
After a concert held in Rochester, New York, David Bowie and three other people (including Iggy Pop, at that time a member of Bowie's band) were arrested and charged with marijuana possession. Police confiscated about a half-pound of weed. A few months later the charges were dropped and no indictment was made.
8. Jimi Hendrix
Date: May 3, 1969
Location: Toronto, Canada
Reason for arrest:
Rock guitarist Jimi Hendrix and his band had just landed in Toronto. At the airport, customs agents found heroin and hashish in his luggage. He was charged with drug possession and arrested. According to Hendrix, the drugs were planted in his bag. A jury trial was held and Hendrix was acquitted of the charges.
9. Snoop Dogg
Date: August 25. 1993
Location: Los Angeles, CA
Reason for arrest:
Outside of Snoop Dogg's apartment, a heated verbal altercation arose between his group and a rival gang. Witnesses later saw a vehicle drive past the same gang members as shots were fired. Snoop's bodyguard shot a man who allegedly approached the vehicle in an aggressive manner. Snoop was driving the vehicle. Both men were charged with murder in connection to the death of the gang member. The men were both defended by famous defense attorney Johnnie Cochran and acquitted of the charges.
10. Janis Joplin
Date: November 15, 1969
Location: Tampa, FL
Reason for arrest:
At her concert in Tampa, Florida, the bluesy singer-songwriter was charged with disorderly conduct for using "vulgar and obscene language." As police tried to get the audience to sit down, Joplin yelled back and swore at the officers. She was arrested in her dressing room and later released on bond. Charges were eventually dropped, as it was determined she was expressing her free speech.
11. Willie Nelson
Date: May 22, 1974
Location: Dallas, TX
Reason for arrest:
This famous mugshot is from the Red Headed Stranger's first tussle with the law for smoking weed. But it wouldn't be his last. He would be arrested three more times for possession of marijuana over the next 35 years.
Famous Mugshots of Gangsters and Crooks
12. Al Capone
Date: May 17, 1929
Location:
Reason for arrest:
Seven men died in the infamous St. Valentine's Day Massacre of February 14, 1929. Although Al Capone was in Florida at the time of the shootings, it is widely suspected that he gave the go-ahead as boss of the gangsters. However, prosecutors were unable to link him definitively to the crime. It wasn't until a few months later that police arrested him and his bodyguard on a concealed deadly weapons charge. Capone served a one-year sentence and was released early for good behavior.
13. John Dillinger
Date: January 23, 1934
Location: Tucson, AZ
Reason for arrest:
The notorious crime leader and his gang robbed banks during the early 1930s. During one Dillinger-led bank robbery in East Chicago, Indiana, a police officer was killed. The Dillinger Gang went on the run until they were found and arrested at a Tucson hotel. Dillinger was returned to Indiana and jailed for the crime. His would not stay long, however. He made his escape with a phony gun he carved out of wood, according to FBI files.
14. Bonnie & Clyde
Date: April 1930
Location: Dallas, TX
Reason for arrest:
Clyde Barrow was only 21 when he met Bonnie Parker in 1930. She helped him escape prison by smuggling him a gun. After Clyde got paroled, the two set off on a life of crime and running from the law. Their murderous crime spree would end in the infamous manhunt and ambush shootout that took their lives on a highway in Louisiana.
15. Butch Cassidy
Date: 1894
Location: Lander, WY
Reason for arrest:
In 1894, the notorious outlaw Butch Cassidy purchased a stolen horse for $5 from a local rustler in Wyoming. He was arrested and sentenced to two years in the state penitentiary in Laramie for buying stolen property. Butch was convinced the whole thing was set up by local ranchers who wanted to get rid of him. But after 18 months he was released on good behavior, with a promise to leave the cattlemen alone. Cassidy eventually formed the Wild Bunch, a group of thieves that became famous for bank robberies and train hold-ups throughout the wild west.
Civil Rights Leaders – Famous Mugshots
16. Martin Luther King
Date: April 12, 1963
Location: Birmingham, AL
Reason for arrest:
A major event in the civil rights era occurred when Martin Luther King Jr. and Rev. Ralph Abernathy led a march on the streets of Birmingham, Alabama. The protestors were charged with violating a court injunction against public civil rights demonstrations. MLK was arrested and placed in solitary confinement. There he wrote his famous "Letter from Birmingham Jail," defending African American resistance. He was imprisoned for eight days.
17. Malcolm X
Date: February 27, 1946
Location: Boston, MA
Reason for arrest:
At the time of his arrest, Malcolm X was known as Malcolm Little. A life of crime led to a conviction on burglary charges in 1946. He was sentenced to 10 years in state prison. While incarcerated, Malcolm read all the books he could find and furthered his education. He also made his conversion to Islam. The leader of black self-reliance and empowerment was paroled after seven years.
18. Rosa Parks
Date: December 1, 1955
Location: Montgomery, AL
Reason for arrest:
Rosa Parks took a stand for her civil rights by an act of civil disobedience that changed history. On her bus home from work, Parks took a seat and refused to give it up to a white passenger. She was arrested for defying the Alabama law that prohibited blacks from sitting towards the front of the bus and required them to give up their seats to whites when the bus was full. Her challenge to the system led to the 1956 Supreme Court decision to desegregate public transportation.
Famous Mugshots of Actors and Celebrities
19. Frank Sinatra
Date: November 27, 1938
Location: Lodi, NJ
Reason for arrest:
In 1938 a very young-looking Frank Sinatra charmed his way to charges of adultery and seduction (breach of promise). The object of Old Blue Eyes' affection was a single female of good repute—who actually was married. The confusion caused charges to morph from seduction "under the promise of marriage" to adultery once authorities figured out she was already hitched. After a short night in jail, the charges were eventually dismissed.
20. Paris Hilton
Date: May 4, 2007
Location: Los Angeles, CA
Reason for arrest:
The hotel-heiress and socialite showed her bad-girl side by driving fast and taking chances. It earned her several motor vehicle infractions. In September 2006 she was arrested and charged with driving under the influence and reckless driving. The court ordered 36-month probation. A few months later, Hilton got caught driving 70 mph in a 35-mph zone, with no headlights and a suspended license. By violating her probation, she was sentenced to 45 days in jail but was released after serving about 20 days behind bars.
21. Jane Fonda
Date: November 3, 1970
Location: Cleveland, OH
Reason for arrest:
In Jane Fonda's famous mugshot, the actor and activist raised her fist in solidarity with the anti-war movement. She was just coming back to the U.S. from a speaking tour in Canada. When agents searched her luggage, they found small pills that looked like drugs. Lab tests proved they were only vitamins. All charges of drug possession were dropped.
22. Steve McQueen
Date: 1972
Location: Anchorage, AK
Reason for arrest:
The King of Cool lived hard and played hard. You can see it in this famous mugshot of him from Anchorage, Alaska. He got pulled over for drunk driving in 1972, posted bail and left town. By the time he was convicted of reckless driving, Steve McQueen was long gone.
23. Richard Pryor
Date: January 1, 1963
Location: Pittsburgh, PA
Reason for arrest:
In Pittsburgh, provocative and brilliant comedian Richard Pryor got into an altercation with a woman lounge singer, leading to his arrest on charges of assault and battery. He was sentenced to 90 days for his crime. After he paid his fine, he spent only 35 total days in the county jail.
24. Al Pacino
Date: January 7, 1961
Location: Woonsocket, RI
Reason for arrest:
Al Pacino was only 21 years old in this famous mugshot. He was busted along with two other men for carrying a concealed weapon in Woonsocket, Rhode Island. Local police officers noticed a suspicious vehicle circling the same block several times and decided to pull them over to check it out. When they searched the car, they found a loaded .38 caliber pistol in trunk. The three men in the vehicle were wearing black masks and gloves. Bail was set at $2,000. Pacino spent three days behind bars.
And finally, a mugshot that no one would have expected…
25. Bill Gates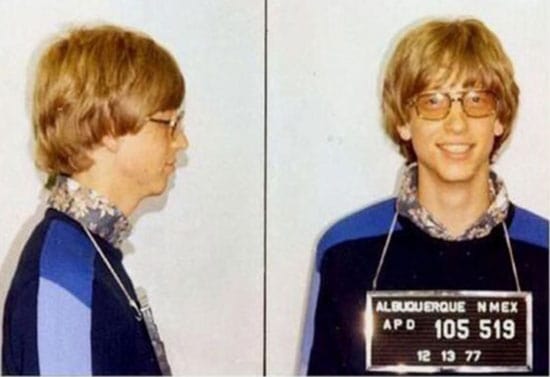 Date: December 13. 1977
Location: Albuquerque, NM
Reason for arrest:
Bill Gates was arrested previously in 1975 on charges of speeding and driving without a license. In 1977, the founder of Microsoft was pulled over once again for a traffic violation, possibly for running a stop sign. In this famous mugshot, the soon-to-be billionaire rocks a floral shirt and sweater combo—a bold fashion choice indeed.
These famous mugshots show us that even the most notorious, wealthy and successful individuals aren't immune to arrest and imprisonment. Who will be next on the list? Stay tuned to find out.
— Greg Johnson
Greg is a writer and co-founder of ListCaboodle.
Etcetera
You're on the 25 Famous Mugshots: Shocking Celebrity Arrests page.
Check out these fascinating lists:
10 Sideshow Performers & Freaky Oddities