Paul Bunyan FAQs, Facts About His Life and Legend
Full name: Paul Bunyan
Born: Somewhere in the Northwoods
Age: His legend traces back to the 1860s
Height: 63 ax handles tall
Weight: His footsteps cause permanent indents in the earth
Occupation: Northwoods logger
Marital status: Unknown
Nationality: American, although Canada may have something to say about that.
Known for: Giant lumberjack, super-human strength, flannel shirts, a friend of a blue ox, tourism mascot, burley Northwoods legend
The legend of Paul Bunyan is as tall as a giant sequoia and as wide as the American continent.
From Maine to California, fanciful tales of a giant lumberjack were bandied about in logging camps from as far back as the mid-19th century. It wasn't until an ink-slinging copywriter put pen to paper for a lumber company in the 1900s that Paul's life began to capture the public's imagination in a big way.
Today we hold the mythic ideal of Paul Bunyan right alongside famous figures like Johnny Appleseed and even Santa Claus. Let's take a deeper look at the origins and history of Paul and his fascinating tale.
How the Paul Bunyan story began
The legend of Paul Bunyan traces back to the earliest days of logging in the United States and Canada.
As early as 1860, stories were told in logging camps of a brawny woodsman and his super-human feats. This camp folklore was based on true stories, embellished over time, and retold with more fantastic hyperbole. The exaggerated tales grew over the years and were passed on as each new generation of greenhorn loggers entered the camp.
The man, the myth, the advertising character
In 1914, the lore became a legend at the hand of the creative copywriter and illustrator William B. Laughead. The Red River Lumber Company asked Laughead to create an advertising campaign to promote sales of their California Pine — "the largest pines that ever grew." He chose to tell the story of Paul Bunyan and his blue ox Babe.
Laughead embellished and illuminated the old loggers' tales, capturing the imagination of American adults and children with the heroic logger's fanciful stories and epic achievements.
After the initial advertising campaign, demand increased for more stories about the Northwoods hero. Comics and books sensationalized the hero's astonishing feats and adventures as a logger. Soon Paul Bunyan and Babe souvenirs, trinkets, and novelty items cluttered Northwoods gift shops and tourist traps everywhere. Vacationing families visited roadside stops across the north country to see statues of the big lug and take pictures of him with the kids.
Who created Paul Bunyan?
William B. Laughead gave birth to Paul Bunyan through his stories written for the Red River Lumber Company beginning in 1914. He is credited with bringing the legend to life with his colorful exaggerations and tales.
In the author's own words
In 1922 William Laughead authored a booklet called The Marvelous Exploits of Paul Bunyan, telling the story of Paul's journey "from Maine to California." He explains the origin of the Bunyan tales in his book.
"When the Red River Lumber Company started using Paul Bunyan stories in their advertising in 1914, it was soon learned that Paul was unknown to the general public and the distributors and sawmill people of the lumber industry. The stories were known only to loggers, and many loggers had not heard of them. My own experience in the camps around Bemidji [MN] and on the upper Mississippi River dated from 1900, and that is where I first heard of Paul Bunyan."
What landmarks did Paul Bunyan create? What is he famous for?
The legend of Paul Bunyan includes fanciful stories of how he helped form the American landscape with his giant size and strength. Here are some of his more unfathomable feats:
Paul created the Grand Canyon by dragging his ax behind him as he walked.
He built the Great Lakes to provide a watering hole for Babe.
With Babe at his side, he was able to clear forests with little effort. In fact, he logged off North Dakota and grubbed the stumps in an afternoon. That is why today the land is very flat and without pines.
Paul created the Mississippi River when his water tank sprung a leak.
What are some other famous Paul Bunyan and Babe tall tales?
Paul's frying pan was so large, it could cover one acre.
It took a crow one day to fly from the tip of Babe's horn to the other horn.
Babe took his color from blue snow that fell one winter.
How tall was Paul Bunyan?
It is said Paul was 63 ax handles tall — but his ax was much larger than an average ax; in fact, it was built for a giant. So you can see, he was very tall!
Paul was so large at birth; it took five storks to carry him to his parents. At only one week old, he fit into his father's clothes and could eat 40 bowls of porridge each day.
Who is Babe, his traveling companion?
Paul always travels the Northwoods with Babe the Blue Ox at his side.
What is Babe famous for?
The blue ox was so large, his footsteps formed many of Minnesota's 10,000 lakes, making the state known as "the land of sky blue water."
Babe could "drink all the water out of the river, leaving the logs high and dry."
For a snack, he could "eat fifty bales of hay, wire and all and six men with picaroons were kept buy picking wire out of his teeth."
How did Paul and Babe meet?
Some say Babe was given to Paul on his first birthday. However, the author Laughead contends, "Babe, the big blue ox, constituted Paul Bunyan's assets and liabilities. History disagrees with when, where, and how Paul first acquired this bovine locomotive, but his subsequent record is reliably established."
How big was Babe?
According to Laughead, "Babe was seven axhandles wide between the eyes according to some authorities; others equally dependable say forty-two axhandles and a plug of tobacco."
Where was Paul Bunyan born?
Many towns in the United States claim to be the home of the famous lumberjack. The following towns all claim to be his birthplace:
Bemidji, MN
Akeley, MN
Brainerd, MN
Bangor, ME
Eau Claire, WI
Oscoda, MI
Ossineke, MI
St. Ignace, MI
Stevens Point, WI
Wausau, WI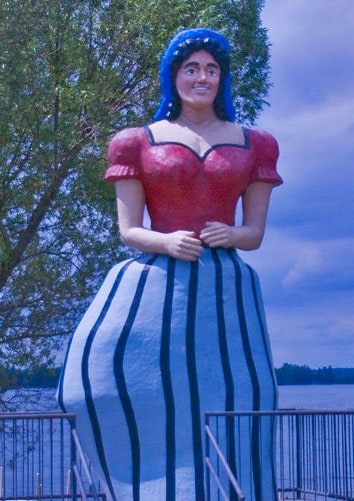 Is Paul Bunyan married? Does he have a wife and family?
Laughead's early stories mention a "Mrs. Bunyan" and their youngest son Jean, but not much is known about his family beyond these original tales.
Did Paul Bunyan die?
Paul lives on in the hearts of true believers and visitors to his many monuments and landmarks.
When is Paul Bunyan Day?
You can celebrate Paul Bunyan Day on June 28 each year.
What products has Paul advertised?
Following are some of the more famous products and services on which Paul's smiling mug has appeared:
Red River Lumber Co. (later Paul Bunyan Lumber), Westwood, CA
Paul Bunyan Bait Co., Minneapolis, MN (fishing tackle)
Marshfield Brewing Co., Marshfield, WI – Paul Bunyan Beer
V-Stores – Paul Bunyan Brand Work Clothes
Fine Foods Co., Seattle and Minneapolis – Paul Bunyan Coffee
Kelly Axe and Tool Works – the Paul Bunyan Ax
Boy Scouts of America
Gottlieb Pinball Machines
Campgrounds, playgrounds, and recreational sites
Cafés, restaurants, and bars throughout the country
Numerous books, comics, maps, and travel brochures
Where are Paul Bunyan statues located?
Statues of Paul and his blue ox Babe can be found in many towns across North America, promoting local businesses and tourism.
A list of Minnesota towns in which you can find a statue of Paul Bunyan:
Akeley, MN – You can sit in Paul's hand for a photo here. Also, don't forget to visit the Paul Bunyan Historical Museum in town.
Bemidji, MN – See the town's 18-foot-tall statue of Paul standing alongside Babe the Blue Ox. The Visitor Center features his enormous flannel shirt, phone, wallet, and even his toothbrush!
Brainerd, MN – You can speak to Paul and he'll answer questions in Paul Bunyan Land in Brainerd.
Pequot Lakes, MN – Check out Paul outside the A-Pine Restaurant.
Other Bunyan-related roadside attractions in MN:
Ortonville, MN – Size up Paul Bunyan's boat anchor.
Rush Lake, MN – Take a gander at his trophy walleye catch.
Kelliher, MN – Observe Paul Bunyan's gravestone.
Hackensack, MN – Meet Lucette, his girlfriend.
More statue locations across the country:
Portland, OR – Check out the 31-foot tall statue of Paul. It was built in 1959.
Bangor, ME – You'll see a 31-foot likeness of the lumberjack holding an ax and peavy.
Klamath, CA – The California town features possibly the tallest Bunyan statue at 49 feet.
Cheshire, CT – Take a photo with a 26-foot "muffler man" style Bunyan statue.
Manistique, MI
Ossineke, MI
Muncie, IN
Lakewood, WI
Eau Claire, WI
Rumford, ME
Old Forge, NY
Where is the Paul Bunyan Trail?
The Paul Bunyan Trail spans 120 miles between Crow Wing State Park and Lake Bemidji State Park in Minnesota.
What other characters are part of the original Laughead legend of Paul Bunyan?
Brimstone Bill, Babe's custodian, teamster, and bullwhacker.
Johnny Inkslinger, the logging clerk.
Big Joe, the camp cook, Paul's cousin.
Benny, the Little Blue Ox.
Big Ole, the blacksmith.
Sourdough Sam, the camp cook who makes everything out of sourdough.
The Seven Axemen of the Red River
Little Chore Boy
Lucy, Paul Bunyan's cow.
Elmer, Paul's dog.
Sport, the dog that is part wolf, part elephant hound.
---
We hope you have enjoyed this look into the history of Paul Bunyan and his blue ox Babe. Be sure to keep an eye out for the next time you're driving through the Northwoods or sitting around the campfire.
You may also enjoy: