The Marshall Tucker Band: Fascinating Fun Facts
For many, the Marshall Tucker Band was the start of Southern Rock. Their debut album jumpstarted things back in 1973. With classics like "Heard It in a Love Song," "Can't You See," and "Fire on the Mountain," the group was a hit machine.
With original member Doug Gray still in the band, the group has performed for some five decades creating over a dozen albums and continuing to perform in live concerts.
The Marshall Tucker Band is right up there with Lynyrd Skynyrd and the Allman Brothers Band in terms of contributions to Southern Rock.
How did the Marshall Tucker Band get its name?
A promoter gave the group one hour to come up with a name and left. The members found a keyring with the name "Marshall Tucker" on it in their rehearsal warehouse.
A piano tuner by the name of Marshall Tucker left his key ring at the band's old rehearsal space. The group decided on, "The Marshall Tucker Band."
The band members didn't realize the name referred to an actual person. The real Marshall Tucker was a blind piano tuner who previously practiced his craft tuning a piano in the rented space.
Where is the group from?
The original members of The Marshall Tucker Band are from Spartanburg, South Carolina.
You might like 7 Best National Anthem Performances
What are Marshall Tucker's seven best songs?
Well, this is a bit subjective, but here are our picks:
1.) This Ol' Cowboy
2.) Heard It in a Love Song
3.) Can't You See
4.) Last of the Singing Cowboys
5.) Fire on the Mountain
6.) Take the Highway
7.) Ramblin'
What musical genre is The Marshall Tucker Band's music?
Lead vocalist Doug Gray notes, "The buying public never really cared whether we were country or rock and roll. They called us a Southern rock band, but we have always played everything from country, jazz, blues, Rock & Roll, and all things in-between.
Tommy Caldwell thought the band's music was progressive country. It featured country music riffs and structures with jazz improvisation with more complex structures. Many folks think of the term Southern Rock when it comes to their music.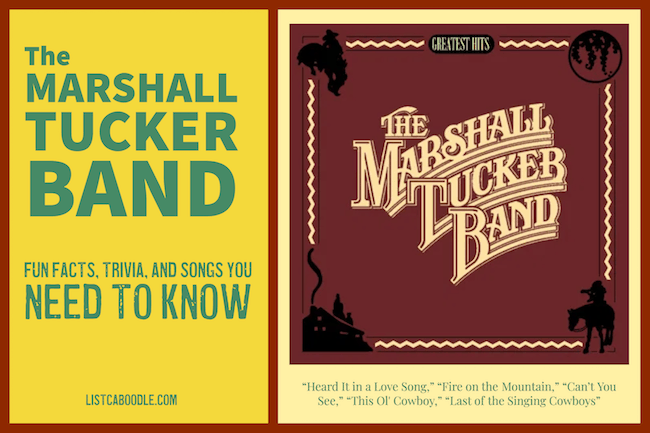 Who wrote most of Marshall Tucker Band's songs?
On their debut album released in 1973 that was self-titled, Toy Caldwell wrote all of the songs. The album went gold in 1975.
What is Toy Caldwell's background?
Toy grew up playing football and basketball in high school. He met many of the band members through sports. His passions included sports, music, and motorcycles.
He enlisted in the Marines and was wounded in Vietnam in 1968. He was evacuated, nursed his injuries, and then returned for duty. Upon his discharge in 1969, he returned to playing music with his friends from high school. Doug Gray served in the army during the Vietnam War.
He died at the age of 45 years old of cardiac arrest, believed to have been brought on by cocaine use.
Toy didn't read music and played by ear.
Who were the original members?
The original group formed in 1972 consisted of primary songwriter, vocalist, and lead singer Toy Caldwell, his brother Tommy Caldwell, lead vocalist Doug Gray, Jerry Eubanks on flute, rhythm guitarist George McCorkle, and drummer Paul Riddle.
What was their biggest hit?
"Heard It in a Love Song" is the song that rose the highest on the Billboard Hot 100 — it peaked at #14 in the country. Doug Gray sang lead vocals, and Toy Caldwell wrote it. It was a little different from a typical MTB song, but it brought a lot of recognition to the group.
"Can't You See" is identified by many as the group's signature song. Some have selected it as the best Southern Rock song of all time.
How was Charlie Daniels connected to The Marshall Tucker Band?
MTB opened for Daniels at a concert early in their career, and Daniels was "blown away" by their music and performance. He played fiddle on "Fire on the Mountain" for the group.
"Fire on the Mountain" was the group's second most successful song. It was a Top 40 hit.
What MTB song generates the most misheard lyrics?
It has to be "Heard It in a Love Song." The Toy Caldwell lyric, "Can't be wrong," is often misheard "10 feet tall." And, some folks think "heard it in a love song" is a "purty little love song" or "pretty little love song." Go figure. It was the days of listening to music on the radio.
———
It's time to go listen to some of The Marshall Tucker Band's all-time great songs.
— Mike O'Halloran
Mike is the co-founder of ListCaboodle and a music enthusiast.
Encore
You're on The Marshall Tucker Band Fun Facts and Trivia page.
You might like:
Best Songs with Girls' names in their title