Woodpecker Quotes, Sayings, Captions
These woodpecker quotes teach us about all the endearing characteristics of the woodland bird—including determination, resiliency, and hard work.
Woodpecker fans and bird lovers of all types will enjoy these inspirational sayings. Also, check out the list of funny woodpecker captions for social media posts listed at the bottom of this page—perfect for amateur wildlife photographers and bird watchers.
The best woodpecker quotes
Find your favorite woodpecker sayings listed below, from humorous lines to inspiring wisdom.
Funny woodpecker quotes
1.) My father told me all about the birds and the bees, the liar—I went steady with a woodpecker till I was twenty-one.
Bob Hope
2.) All bad jazz sounds like Woody Woodpecker.
Leo Kottke
3.) Whenever I hear the sparrow chirping, watch the woodpecker chirp, catch a chirping trout, or listen to the sad howl of the chirp rat, I think: Oh boy! I'm going insane again.
Jack Handey
4.) Many critics are like woodpeckers, who, instead of enjoying the fruit and shadow of a tree, hop incessantly around the trunk, pecking holes in the bark to discover some little worm or other.
Henry Wadsworth Longfellow
5.) I am the MacGyver of cooking. If you bring me a piece of bread, cabbage, coconut, mustard greens, pig's feet, pine cones… and a woodpecker, I'll make you a good chicken pot pie.
Si Robertson
6.) I am busier than a woodpecker in a lumber yard.
Unknown
7.) He's/She's tougher than woodpecker lips.
Unknown
Inspirational woodpecker sayings
8.) A woodpecker's drilling Echoes To the mountain clouds.
Dakotsu Iida
9.) You're a beautiful woodpecker in the forest of my life.
Rajkanya
10.) Even the woodpecker owes his success to the fact that he uses his head and keeps pecking away until he finishes the job he started.
Coleman Cox
11.) A woodpecker can tap twenty times on a thousand trees and get nowhere, but stay busy. Or he can tap twenty-thousand times on one tree and get dinner.
Seth Godin
12.) If you believe in what you are doing, then let nothing hold you up in your work. Much of the best work of the world has been done against seeming impossibilities.
Dale Carnegie
13.) The temple of truth has never suffered so much from woodpeckers on the outside as from termites within.
Vance Havner
14.) You alone are enough. You have nothing to prove to anybody.
Maya Angelou
15.) My men and I have decided that our boss, the president of the United States, is as tough as woodpecker lips.
Charles Alvin Beckwith
16.) I'm a woodpecker carving out my days on the body of a memoir tree.
Rajkanya
Check out Hummingbird Quotes and Captions.
Woodpecker quotes about life
17.) Woodpecker doesn't take away things from nature to build his comfort. He makes nature his home and tree his house.
Unknown
18.) As the woodpecker taps in a spiral quest From the root to the top of the tree, Then flies to another tree, So have I bored into life to find what lay therein, And now it is time to die, And I will fly to another tree.
Sidney Lanier
19.) Repeat the truth so that the dull can grasp it! Repeat the truth with the speed of a woodpecker's beak making holes in tree trunks!
Mehmet Murat ildan
20.) Somewhere lives a bad Cajun cook, just as somewhere must live one last ivory-billed woodpecker. For me, I don't expect ever to encounter either one.
William Least Heat-Moon
21.) In this dark and wounded society, writing can give you the pleasures of the woodpecker, of hollowing out a hole in a tree where you can build your nest and say, This is my niche, this is where I live now, this is where I belong.
Anne Lamott
Survival quotes
22.) More birds have adapted to a changing world than have failed. Very few have the narrow tolerance of the ivory-billed woodpecker or the Bachman's warbler.
Roger Tory Peterson
23.) If we built houses the way we build software, the first woodpecker to come along would destroy civilization.
Clifford Stoll
24.) For one to thrive, the other should always wither. After all, for a woodpecker to live, the tree must always suffer.
Hiranmayee Balaji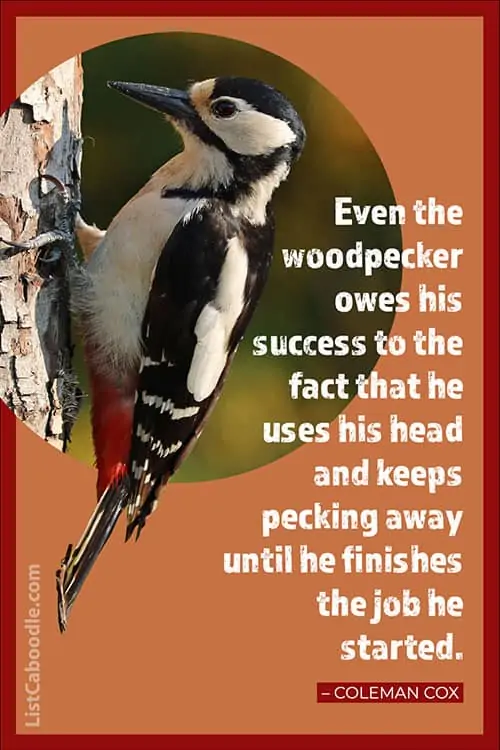 Famous woodpecker quotes from books and literature
25.) A thousand woodpeckers flew in through the window and settled themselves on Pinocchio's nose.
Carlo Collodi, The Adventures of Pinocchio
26.) "If only, if only," the woodpecker sighs, "The bark on the tree was as soft as the skies." While the wolf waits below, hungry and lonely, Crying to the moo-oo-oon, "If only, If only."
Louis Sachar, Holes
27.) A lion does not flinch at laughter coming from a hyena. A gorilla does not budge from a banana thrown at it by a monkey. A nightingale does not stop singing its beautiful song at the intrusion of an annoying woodpecker.
Suzy Kassem, Rise Up and Salute the Sun
28.) Not far from this village, perhaps about two miles, there is a little valley or rather lap of land among high hills, which is one of the quietest places in the whole world. A small brook glides through it, with just murmur enough to lull one to repose; and the occasional whistle of a quail or tapping of a woodpecker is almost the only sound that ever breaks in upon the uniform tranquillity.
Washington Irving, The Legend of Sleepy Hollow
29.) Katy was neither a Methodist nor a Masochist. She was a goddess and the silence of goddesses is genuinely golden. None of your superficial plating. A solid, twenty-two-carat silence all the way through. The Olympian's trap is kept shut, not by an act of willed discretion, but because there's really nothing to say. Goddesses are all of one piece. There's no internal conflict in them. Whereas the lives of people like you and me are one long argument. Desires on one side, woodpeckers on the other. Never a moment of real silence.
Aldous Huxley, The Genius And The Goddess
More quotes from literature
30.) The invigorating energy in fresh-cut grass and cool, crisp chlorine filled Wendell's nostrils as they lounged by the pool in Evan's back yard. Looking past the back fence the wild grass bowed to the playful persuasion of the warm summer breeze and the corn lilies and columbines bounced their jeweled heads, laughing and teasing butterflies. Even the Cooper's hawk atop a nearby fence post, content with feasting on a woodpecker knew, it was a perfect day.
Jaime Buckley, Prelude to a Hero
31.) Hey, it could be worse," Hammond said of their efforts to protect the woodpecker. "It could be a butterfly." Butterflies were easy, I said. I would soon go to see a couple of clam species that the governor of Georgia had accused of endangering the lives of his state's children. Matteson laughed, "Woodpeckers are pretty, but mussels?" And so it goes.
Joe Roman, Listed: Dispatches from America's Endangered Species Act
32.) Aah, woodpecker! Help!" Cedar shouted. "Woodpecker! Girl made of wood! Not a good combo!" "I'll help you!" Hunter cried. "Here we go," Cupid said, rubbing her hands together. "It's shirt-ripping time." Sure enough, Hunter ripped off his shirt and posed. Invisible horns played a heroic fanfare. Hunter lifted his ax and chased the woodpecker. Which was chasing Cedar. "Aah, ax!" Cedar said, still running. "A woodpecker! And an ax! Aah!"
Shannon Hale, The Storybook of Legends
Advice from a woodpecker
Find your own rhythm.
Peck away at obstacles.
Be colorful.
Carve out a place for yourself.
Make your voice heard.
It's ok to be flashy.
Use your head.
Woodpecker captions for Instagram
Use these clever lines to spice up your social media posts. Just copy and paste your favorite caption from this list along with your best woodpecker photo.
Suet happens.
Woodpecker lover.
I want to believe.
Nice pecker.
Old birders never die, they just finish their life list.
Easily distracted by woodpeckers.
Bird-aholic.
I'd rather be watching woodpeckers.
Keep calm and trust the woodpeckers.
Obsessive birding disorder.
Woodpeckers are my spirit animal.
Bang your head.
I'd rather be birding.
Team Woodpecker.
Woodpecker watcher.
I watch birds and I know things.
Ornithologeek.
Nerdy and birdy.
Woodpecker whisperer.
I prefer redheads.
Pileated life.
Does not bird well with others.
Bird nerd.
I just really love woodpeckers!
---
Thanks for reading about woodpecker quotes, sayings, and captions. Bird lovers will enjoy the following lists as well: