60 Best Song Quotes And Singing Sayings
These 60 quotes about singing will surely inspire music lovers of all types. Included are insightful words from artists, musicians, and celebrities. Read on and let the words be your muse!
Song quotes to leave you singing in the shower
Here are some of the best song quotes and singing sayings we've found. Enjoy!
There's no half-singing in the shower, you're either a rock star or an opera diva.
Josh Groban
If I cannot fly, let me sing.
Stephen Sondheim
Without music, life would be a mistake.
Friedrich Nietzsche
You might like: All About Lizzo.
We don't just sing; we are the song.
Louise Penny
He who sings frightens away his ills.
Miguel de Cervantes
Singing has always seemed to me the most perfect means of expression.
Georgia O'Keeffe
The only thing better than singing is more singing.
Ella Fitzgerald
To sing is to bring to the surface all the depth of one's being.
Marty Rubin
You don't tug on Superman's cape.
Jim Croce – More Singer Songwriters from the 70s
The greatest respect an artist can pay to music is to give it life.
Pablo Casals
Celebrity song quotes about singing
Singing is just a feeling set to music.
Carrie Underwood
He who sings scares away his woes.
Cervantes
Singing provides a true sense of lightheartedness. If I sing when I am alone, I feel wonderful. It's freedom.
Andrea Bocelli
Words make you think. Music makes you feel. A song makes you feel a thought.
Yip Harburg
Let us go singing as far as we go: the road will be less tedious.
Virgil
Every voice has its own beauty.
Asif Imtious Prome
Singing is like a celebration of oxygen.
Bjork
A bird does not sing because it has an answer. It sings because it has a song.
Chinese Proverb
Love, I find, is like singing.
Zora Neale Hurston
Singing is a way of escaping. It's another world. I'm no longer on earth.
Edith Piaf
I love singing. I love it, and it doesn't feel like a chore. It's an expression.
Rihanna
He who sings prays twice.
St. Augustine
A song to me is a very tangible thing. I can feel it with my hands and see it with my eyes.
Roberta Flack
Inspirational song quotes
Those who wish to sing always find a song.
Swedish Proverb
Be like the bird that, passing on her flight awhile on boughs too slight, feels them give way beneath her, and yet sings, knowing that she hath wings.
Victor Hugo
A song can be more than words and music … when sung with soul a song carries you to another world, to a place where no matter how much pain you feel, you are never alone.
Clay Aiken
You don't need a reason to sing.
Marty Rubin
Sing then the core of dark and absolute oblivion where the soul at last is lost in utter peace.
D. H. Lawrence
Music heals all forms of misery
Friedrich Nietzsche
When a singer truly feels and experiences what the music is all about, the words will automatically ring true.
Monserrat Caball
Sweetest the strain when in the song
The singer has been lost.
Elizabeth Stuart Phelps
There was one emotional outlet my people always had when they had the blues. That was singing.
Ethel Waters
Singing is the sound of the soul.
James Runcie
Some days there won't be a song in your heart. Sing anyway.
Emory Austin
The singer has everything within him. The notes come out from his very life. They are not materials gathered from outside.
Rabindranath Tagore
Motivational song quotes about singing
You can cage the singer but not the song.
Harry Belafonte
A singer… is no more than an actor set to music.
Kay Starr
Use what talents you possess; the woods would be very silent if no birds sang there except those that sang best.
Henry Van Dyke
I don't sing because I'm happy; I'm happy because I sing.
William James
God sent his Singers upon earth
With songs of sadness and of mirth,
That they might touch the hearts of men,
And bring them back to heaven again.
Henry Wadsworth Longfellow
O! she will sing the savageness out of a bear.
William Shakespeare
Singing, it's like it's like loving somebody, it's a supreme emotional and physical experience.
Janis Joplin
God respects me when I work, but God loves me when I sing.
Rabindranath Tagore
As long as we live, there is never enough singing.
Martin Luther
The total person sings not just the vocal chords.
Esther Broner
It was his nature to blossom into song, as it is a tree's to leaf itself in April.
Alexander Smith
Singing is a miracle. It has been called the most complex coordinative act that a human being is ever called upon to perform.
Dan Marek
Classical music song quotes
Sing like there's nobody listening,
And live like it's heaven on earth.
William Watson Purkey
Faith and joy are the ascensive forces of song.
Edmund Clarence Stedman
That music in itself, whose sounds are song,
The poetry of speech.
Lord Byron
Life is a song. Love is the music.
Author Unknown
Hope is the thing with feathers that perches in the soul—and sings the tunes without the words—and never stops at all.
Emily Dickinson
Music expresses that which cannot be said and on which it is impossible to be silent.
Victor Hugo
Keep a green tree in your heart and perhaps a singing bird will come.
Chinese Proverb
Birds sing after a storm; why shouldn't people feel as free to delight in whatever remains to them?
Rose F. Kennedy
I sing like I feel.
Ella Fitzgerald
You might like The Four Tops best songs and fun facts
Pop music song quotes
You don't love someone for their looks, or their clothes, or for their fancy car, but because they sing a song only you can hear.
Author Unknown
I would rather be remembered by a song than by a victory.
Alexander Smith
Such songs have power to quiet
The restless pulse of care,
And come like the benediction
That follows after prayer.
Henry Wadsworth Longfellow
Enjoy your life. No curse hangs over you, nor did it ever. No devil chases after your soul. Sing and dance and be merry.
Christopher Pike
BONUS: 19 Great Music Quotes
Music should strike fire from the heart of man, and bring tears from the eyes of woman.
Ludwig van Beethoven
Without music, life would be a blank to me.
Jane Austen
Eating, loving, singing and digesting are, in truth, the four acts of the comic opera known as life, and they pass like bubbles of a bottle of champagne. Whoever lets them break without having enjoyed them is a complete fool.
Gioachino Rossini
The only truth is music.
Jack Kerouac
Learning music by reading about it is like making love by mail.
Luciano Pavarotti
A painter paints his pictures on canvas. But musicians paint their pictures on silence. We provide the music and you provide the silence.
Leopold Stokowski
The trouble with music appreciation, in general, is that people are taught to have too much respect for music. They should be taught to love it instead.
Igor Stravinsky
Top music quotes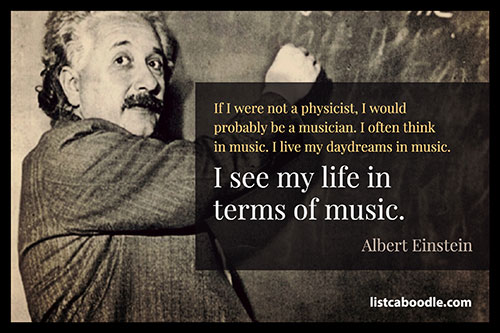 An opera begins long before the curtain goes up and ends long after it has come down. It starts in my imagination, it becomes my life, and it stays part of my life long after I've left the opera house.
Maria Callas
If you want to please only the critics, don't play too loud, too soft, too fast and too slow.
Arturo Toscanini
Music is a language that doesn't speak in particular words. It speaks in emotions, and if it's in the bones, it's in the bones.
Keith Richards
Inspiration is an awakening, a quickening of all man's faculties, and it is manifested in all high artistic achievements.
Giacomo Puccini
Classical music quotes
Music… can name the unnameable and communicate the unknowable.
Leonard Bernstein
There are two means of refuge from the miseries of life: music and cats.
Albert Schweitzer
If children are not introduced to music at an early age, I believe something fundamental is actually being taken away from them.
Luciano Pavarotti
Music in the soul can be heard by the universe.
Lao Tzu
A singer starts by having his instrument as a gift from God . . . when you have been given something in a moment of grace, it is sacrilegious to be greedy.
Marian Anderson
Music is like a dream. One that I cannot hear.
Ludwig van Beethoven
Music gives a soul to the universe, wings to the mind, flight to the imagination and life to everything.
Plato — Check out Best Plato Quotes & Images.
We hope you have found inspiration in these music, singing, and song quotes. Be sure to check out these other interesting music lists.
— Greg Johnson
Greg is a writer and co-founder of ListCaboodle.
Encore
Read more:
Top Motown Songs – The Singers, Stories and Fun Facts
15 Famous Songs With Lists In The Lyrics
The Best Catholic Songs of All Time
15 Best Driving Songs: A Playlist for the Open Road
31 Song Lyrics Changed the Way We Talk