15 Famous Songs With Lists In The Lyrics
The most popular songs with lists in the lyrics
Ever wondered how many popular songs there are with lists in the lyrics? Once you start looking for them, you'll find them everywhere. We've assembled 15 of the most famous "list" songs here.
They range in style and age, but all have one thing in common: the list. And if you find yourself hungry for more, see below for our list of "Songs with lists in the lyrics, from A to Z."
Popular songs with lists of things, lists of names and list of places
Some artists provide lengthy lists of places and names, while others make only a short reference to a list in their songs. Give a listen to each of these popular tunes and see how each artist uses the listing technique to give a unique twist to their hit songs.
1. I've Been Everywhere by Hank Snow
Both Hank Snow and Johnny Cash made I've Been Everywhere a country music hit. Originally of Australian origin, the American version of the song lists over 90 locations the singer has visited. Versions of the song have been adapted for audiences in Great Britain, New Zealand and Ireland.
Key lyrics:
I've been everywhere, man.
I've been everywhere, man.
Crossed the desert's bare, man.
I've breathed the mountain air, man.
Of travel, I've a-had my share, man.
I've been everywhere.
I've been to
Reno, Chicago, Fargo, Minnesota,
Buffalo, Toronto, Winslow, Sarasota,
Wichita, Tulsa, Ottawa, Oklahoma,
Tampa, Panama, Mattawa, La Paloma,
Bangor, Baltimore, Salvador, Amarillo,
Tocopilla, Barranquilla, and Padilla.
Check out Father-Daughter Duets by the Shaws
2. California Girls by The Beach Boys
It is said the iconic Beach Boys song California Girls was conceived when Brian Wilson first tried LSD. The song's lyrics ponder the different qualities of girls around the world from a California teenager's perspective. The 1965 recording helped define the California Sound
Key lyrics:
Well East coast girls are hip
I really dig those styles they wear
And the Southern girls with the way they talk
They knock me out when I'm down there
The Mid-West farmer's daughters really make you feel alright
And the Northern girls with the way they kiss
They keep their boyfriends warm at night
I wish they all could be California girls
I wish they all could be California
I wish they all could be California girls
Check out the beaches in Phuket, Thailand.
The most popular songs with lists
3. 50 Ways to Leave Your Lover by Paul Simon
This famous "list song" is Paul Simon's only number one hit on the Billboard Hot 100 as a solo artist. Simon recorded the cheeky tune after divorcing his first wife.
Key lyrics:
You just slip out the back, Jack
Make a new plan, Stan
You don't need to be coy, Roy
Just get yourself free
Hop on the bus, Gus
You don't need to discuss much
Just drop off the key, Lee
And get yourself free
You might like Best Sea Shanties
4. Vogue by Madonna
Madonna released the dance hit Vogue on her 1990 album I'm Breathless. In the song, she lists various celebrities from the golden era of Hollywood. The song introduced "Vogueing" to the dance scene and became the world's best selling single that year.
Key lyrics:
Vogue, (Vogue)
Beauty's where you find it (move to the music)
Vogue, (Vogue)
Beauty's where you find it (go with the flow)
Greta Garbo, and Monroe
Dietrich and DiMaggio
Marlon Brando, Jimmy Dean
On the cover of a magazine
Grace Kelly; Harlow, Jean
Picture of a beauty queen
Gene Kelly, Fred Astaire
Ginger Rogers, dance on air
They had style, they had grace
Rita Hayworth gave good face
Lauren, Katherine, Lana too
Bette Davis, we love you
Ladies with an attitude
Fellows that were in the mood
Don't just stand there, let's get to it
Strike a pose, there's nothing to it
Check out this list of Songs With Girl Names in the Titles
5. Subterranean Homesick Blues by Bob Dylan
Bob Dylan created an innovative "music video"—before there was such a thing—for Subterranean Homesick Blues in D. A. Pennebaker's documentary film Don't Look Back. While the song plays, Dylan holds up cards that match the quick pace of the lyrics. Some of the cards show intentional spelling errors and puns, as Dylan presents them with a deadpan expression. The breakthrough video is an inspiration for many future MTV musicians.
Key lyrics:
Oh, get sick, get well
Hang around an ink well
Hang bail, hard to tell
If anything is goin' to sell
Try hard, get barred
Get back, write braille
Get jailed, jump bail
Join the army, if you fail
Look out kid
You're gonna get hit
But losers, cheaters
Six-time users
Hang around the theaters
Girl by the whirlpool
Lookin' for a new fool
Don't follow leaders, watch the parkin' meters
Classic songs with lists
6. It's the End of the World as We Know It (And I Feel Fine) by R.E.M.
The popular R.E.M. tune follows very closely in the tradition of Bob Dylan's Subterranean Homesick Blues. The rapid-fire, seemingly random lyrics list a wide range of references. "The words come from everywhere," explained the band's frontman, Michael Stipe.
Key lyrics:
The other night I drifted nice continental drift divide
Mountains sit in a line, Leonard Bernstein
Leonid Brezhnev, Lenny Bruce, and Lester Bangs
Birthday party, cheesecake, jellybean, boom
You symbiotic, patriotic, slam but neck, right, right
Check out these Songs with Celebrity Names in the Lyrics.
7. The Twelve Days of Christmas
The traditional English Christmas carol lists the gifts received by "my true love" on each of the twelve days of Christmas. The song is believed to have origins in France, while the first published account of the song dates to 1780.
Key lyrics:
On the first day of Christmas, my true love gave to me,
A partridge in a pear tree.
On the second day of Christmas, my true love gave to me,
Two turtle doves and a partridge in a pear tree.
On the fourth day of Christ
On the third day of Christmas my true love gave to me, five golden rings
Four calling birds, three french hens,
Two turtle doves and a partridge in a pear tree
8. Dancing in the Streets by Martha and the Vandellas
The signature Motown song by Martha and the Vandellas burst on to the scene in 1964 and rose to No. 2 on the Billboard Hot 100. Since then, musical artists like the Mamas & the Papas, Van Halen, David Bowie/Mick Jagger, and others have recorded covers of the song to the delight of many generations of fans.
Key lyrics:
It's an invitation across the nation,
A chance for folks to meet.
There'll be laughing, singing, and music swinging,
Dancing in the street.
Philadelphia, P.A.
Baltimore and D.C. now.
Can't forget the Motor City.
9. One Piece at a Time by Johnny Cash
Johnny Cash's hit single about sneaking parts out of a General Motors assembly line hit number one on the Billboard Hot Country Singles chart in 1976. The novelty song ends with Johnny describing his misfit Cadillac by listing the years of all the parts that made up the car.
Key lyrics:
Well, It's a '49, '50, '51, '52, '53, '54, '55, '56
'57, '58' 59′ automobile
It's a '60, '61, '62, '63, '64, '65, '66, '67
'68, '69, '70 automobile.
Radio songs with lists
10. We Didn't Start the Fire by Billy Joel
Billy Joel lists over 100 headline events and names in the lyrics of his 1989 hit song, We Didn't Start the Fire. The avowed "history nut" lists the important world events—ranging from the date of his birth in 1949 to the time of the song's writing—in rapid-fire fashion.
Key lyrics:
We didn't start the fire
It was always burning
Since the world's been turning
We didn't start the fire
No, we didn't light it
But we tried to fight it
Joseph Stalin, Malenkov, Nasser and Prokofiev
Rockefeller, Campanella, Communist Bloc
Roy Cohn, Juan Peron, Toscanini, Dacron
Dien Bien Phu falls, "Rock Around the Clock"
Einstein, James Dean, Brooklyn's got a winning team
Davy Crockett, Peter Pan, Elvis Presley, Disneyland
Bardot, Budapest, Alabama, Krushchev
Princess Grace, "Peyton Place", trouble in the Suez
11. Travelin' Man by Ricky Nelson
In the song Travelin' Man, television star and 1950s teen idol, Ricky Nelson list the women he loves around the world. The 1961 hit single soared to No. 1 on the Billboard Hot 100 while its b-side, Hello Mary Lou, reached No. 9.
Key lyrics:
I've a pretty Señorita waiting for me
Down in old Mexico
If you're ever in Alaska stop and see
My cute little Eskimo
Oh, my sweet Fraulein down in Berlin town
Makes my heart start to yearn
And my China doll down in old Hong Kong
Waits for my return
Pretty Polynesian baby over the sea
I remember the night
When we walked in the sands of the Waikiki
And I held you, oh so tight
12. My Favorite Things by Julie Andrews
The classic Rodgers and Hammerstein musical The Sound of Music features Julie Andrews singing the show tune My Favorite Things. Playing the role of Maria, she sings about the things she loves and thinks about when times are bad.
Key lyrics:
Raindrops on roses
And whiskers on kittens
Bright copper kettles and warm woolen mittens
Brown paper packages tied up with strings
These are a few of my favorite things
13. (Get Your Kicks on) Route 66 by Chuck Berry
The lyrics to (Get Your Kicks on) Route 66 list many of the major stops along the famous highway. In Chuck Berry's version of the song, he famously mispronounces "Barstow" but musically holds true to the song's R&B roots.
Key lyrics:
Well it goes from St Louis, down to Missouri
Oklahoma City looks oh so pretty
You'll see Amarillo and Gallup, New Mexico
Flagstaff, Arizona don't forget Winona
Kingsman, Barstow, San Bernadino
Would you get hip to this kindly trip
And take that California trip
Get your kick on Route 66
The best songs with lists
14. Come Together by The Beatles
John Lennon and Paul McCartney wrote Come Together as the opening track for the album Abbey Road, ranked by some fans and critics as the best Beatles album ever made. Lennon described the nonsensical lyrics of the song as "gobbledygook".
Key lyrics:
He wear no shoeshine
He got toe jam football
He got monkey finger
He shoot Coca-Cola
He say I know you, you know me
One thing I can tell you is
You got to be free
Come together, right now
Over me
15. Under the Sea from Disney's The Little Mermaid
The popular Disney film The Little Mermaid features the hit song Under the Sea. The crab Sebastian, sung by Samuel E. Wright, tries to convince Ariel to stay underwater with a long list of all the animals and friends she has down there.
Key lyrics:
The newt play the flute
The carp play the harp
The plaice play the bass
And they soundin' sharp
The bass play the brass
The chub play the tub
The fluke is the duke of soul
(Yeah)
The ray he can play
The lings on the strings
The trout rockin' out
The blackfish she sings
The smelt and the sprat
They know where it's at
An' oh that blowfish blow
---
Songs with lists in the lyrics, from A to Z: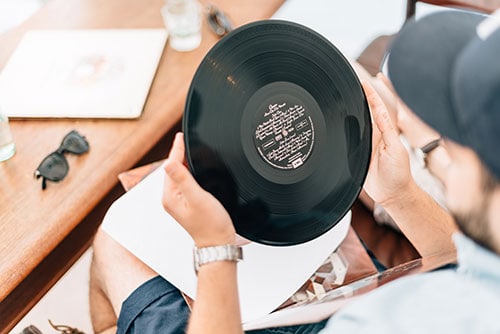 A
A Boy Without a Girl by Anthony Newley
A Hard Rain's a-Gonna Fall by Bob Dylan
A Little Priest by Stephen Sondheim and Hugh Wheeler
A Little Something Refreshing by No Doubt
A Simple Desultory Philippic by Simon and Garfunkel
A Well-Dressed Hobbit by Rie Sheridan Rose, Marc Gunn
A–You're Adorable (The Alphabet Song) by Perry Como
Ah, Paris! by Stephen Sondheim
Ain't Got No from the musical Hair
All I Really Want to Do by Bob Dylan
All My Ex's Live in Texas by George Strait
All the Words in the English Language by Animaniacs
American Bad-ass by Kid Rock
Anything You Can Do from Annie Get Your Gun
Area Codes by Ludacris
Around the World by Red Hot Chili Peppers
Art Eats Art by Orchestral Manoeuvres in the Dark (OMD)
As Some Day It May Happen from The Mikado by Gilbert & Sullivan
Atlantis by Donovan
At Long Last Love by Cole Porter
At the Hop by Danny and the Juniors
At the Zoo by Simon and Garfunkel
The alphabetical list of list songs
B
Babe I'm On Fire by Nick Cave and the Bad Seeds
The Bad Touch by Bloodhound Gang
The Bare Necessities from The Jungle Book
Bahay Kubo (Philippine children's song)
The Begat from Finian's Rainbow
Better Than Anything by David "Buck" Wheat
The Big Bamboo
Bike by Pink Floyd
Black Boys from the musical Hair
Blue from the musical Heathers: The Musical
The Booklovers by The Divine Comedy
Brothers and Sisters by Blur
Brush Up Your Shakespeare by Cole Porter
C
Calendar Girl by Neil Sedaka
Can U Dig It by Pop Will Eat Itself
Carol Brown by Flight of the Conchords
Cherry Pies Ought to Be You from the musical Out of This World
Chop Suey by Rodgers & Hammerstein
Coded Language by Krust/Saul Williams
Come Back To Me from the musical On a Clear Day You Can See Forever
Come Together by The Beatles
Come To The Supermarket In Old Peking by Cole Porter
Comedy Tonight from A Funny Thing Happened on the Way to the Forum
Conga! from Wonderful Town
Could I Leave You? from the musical Follies
Count It Up by Field Music
More songs with lists in the lyrics:
D
Datura by Tori Amos
Delaware by Perry Como
Destroy Rock & Roll by Mylo
DJ Bombay by Michael V.
Do I Love You? from DuBarry Was a Lady
Done Too Soon by Neil Diamond
Don't Let's Be Beastly to the Germans by Noël Coward
Don't Put Your Daughter on the Stage, Mrs. Worthington by Noël Coward
Do You Remember These by the Statler Brothers
DuBarry Was a Lady from DuBarry Was a Lady
E
88 Lines About 44 Women by The Nails
Eclipse by Pink Floyd
Eight Easy Steps by Alanis Morissette
The Elements by Tom Lehrer
Elephant Talk by King Crimson
Endless Art by A House
Every Tube Station Song by Jay Foreman
Everybody Knows by Leonard Cohen
F
52 Girls by B-52s
Fairbanks, Alaska by Joe Walsh
Farming from Let's Face It!
F.E.A.R. by Ian Brown
Female by Keith Urban
Forever Young by Bob Dylan
Foxtrot Uniform Charlie Kilo by The Bloodhound Gang
Friendship from DuBarry Was a Lady
The alphabetical list of list songs
G
Gee, Officer Krupke from West Side Story
Girl of 100 Lists by Go-Go's
Gin Soaked Boy by The Divine Comedy
God by John Lennon
Going Nowhere Slow by The Bloodhound Gang
Good Doctor by Robbie Williams
The Green Grass Grows All Around
Green Grow the Rushes, O
H
Hair from the musical Hair
Hank Williams Said It Best by Guy Clark
Hardware Store by "Weird Al" Yankovic
Hashish from the musical Hair
Heart of Rock and Roll by Huey Lewis and the News
Hello by The Beloved
High Tech Redneck by George Jones
Hillbilly Heaven by Tex Ritter
Hot Topic by Le Tigre
How About You? by Burton Lane/Ralph Freed
More songs with lists in the lyrics:
I
I Dig Rock 'N Roll Music by Peter, Paul, and Mary
I Dreamed Of A Hillbilly Heaven by Tex Ritter
I Can't Get Started (With You) by Ira Gershwin and Vernon Duke
I Get a Kick Out of You from the musical Anything Goes
I Got Life from the musical Hair
I Hate These Songs by Dale Watson
I Love by Tom T. Hall
I'm Black/Ain't Got No from the musical Hair
I'm Still Here by Elaine Stritch/Eartha Kitt
I'm Trying from the musical Ordinary Days
I Started a Blog Nobody Read by Sprites
Imperfect List by Big Hard Excellent Fish
The Intro and the Outro by Bonzo Dog Band
It Ain't Necessarily So from the opera Porgy and Bess
It's an Elk from the musical Bubble Boy
It's Grim Up North by The Justified Ancients of Mu Mu
Isang Linggong Pag-Ibig by Imelda Papin
It Was a Very Good Year by Frank Sinatra
I've a Shooting Box in Scotland from See America First
J
Jung Talent Time by TISM
The alphabetical list of list songs
K
Kiss Off by Violent Femmes
Know Your Rights by The Clash
Kokomo by The Beach Boys
L
The Ladies Who Lunch by Elaine Stritch
La Vie Bohème by Jonathan Larson
The Lady Is a Tramp from the musical Babes in Arms
Land of 1,000 Dances by Chris Kenner/Wilson Pickett
Let 'em In by Wings
Let's Call the Whole Thing Off by George Gershwin and Ira Gershwin)
Let's Do It, Let's Fall in Love by Cole Porter
Let's Not Talk About Love from Let's Face It!
Liaisons from A Little Night Music
Life Is a Rock (But the Radio Rolled Me) by Reunion
Lime Jello Marshmallow Cottage Cheese Surprise by Joan Morris
Losing My Edge by LCD Soundsystem
Lost Property by The Divine Comedy
L-O-V-E by Nat King Cole
Love is a Stranger by Eurythmics
Love Your Love the Most by Eric Church
Lower 48 by The Gourds
More songs with lists in the lyrics:
M
Madamina, il catalogo è questo from Don Giovanni
Mambo No. 5 by Lou Bega
Man on the Moon by R.E.M.
Manhattan by Richard Rodgers, Lorenz Hart
Matangi by M.I.A.
MfG by Die Fantastischen Vier
Miracles by Insane Clown Posse
Mr. Goldstone by Jule Styne
Moments to Remember by Robert Allen and Al Stillman
Mope by The Bloodhound Gang
More Bad Times by the Presidents of the United States of America
My Favorite Things by Rodgers and Hammerstein
My Kind of Town (Chicago Is) by Frank Sinatra
My Funny Valentine by Richard Rodgers
My Ship by Kurt Weill
N
Name Game by Shirley Ellis
The Na-Na Song by Sheryl Crow
Napoleon from Jamaica
New Direction by Sugar Ray
New Rules by Dua Lipa
No Hay Nadie Como Tú by Calle 13
Nunal by Vincent Daffalong
O
One Hundred Easy Ways (To Lose a Man) from the musical Wonderful Town
One Bourbon, One Scotch, One Beer by John Lee Hooker/George Thorogood
Overdrive by Eraserheads
The alphabetical list of list songs
P
Pencil Full of Lead by Paolo Nutini
Pennsylvania by The Bloodhound Gang
People Who Died by Jim Carroll
Pepper by Butthole Surfers
The Physician from the musical Nymph Errant
Plane Too by Loudon Wainwright III
Play with Me by Extreme
Pokerap by Pokémon
Polkamon by "Weird Al" Yankovic
Poor Young Millionaire by Cole Porter
Popsicles and Icicles by The Murmaids
Porn Star Dancing by My Darkest Days
Portobello Road from Walt Disney's Bedknobs and Broomsticks
The Pride by Five Finger Death Punch
Q
Questions and Answers (The Three B's) from the musical On Your Toes
R
Raise Up by Petey Pablo
Ramblin' Man by Lemon Jelly
The Rattlin' Bog
Reasons to be Cheerful, Part 3 by Ian Dury & the Blockheads
Rickets by Deftones
Rhode Island Is Famous For You from Inside U.S.A.
Rock & Roll Heaven from The Righteous Brothers
Royals by Lorde
More songs with lists in the lyrics:
S
7 Things by Miley Cyrus
The Saga of Jenny from the Broadway musical Lady in the Dark
Said the Hobbit to the Horse by Marc Gunn
Sample Song by Dorothy Shay
Short Memory by Midnight Oil
Show Me What You Got by Limp Bizkit
Seven Curses by Bob Dylan
Seven Deadly Sins by The Travelling Wilburys
Shake Hands with Uncle Max by Allan Sherman
Sinaktan mo ang puso ko by Michael V.
Sixteen Reasons by Bill and Doree Post/Connie Stevens
Slow Train by Flanders and Swann
Sodomy from the musical Hair
Song for Whoever by The Beautiful South
Stars on 45 by Stars on 45
Step By Step by the Crests
The Stately Homes of England by Noël Coward
Super Supper March by Nigel Pilkington
Surfing USA by The Beach Boys
Sweet and Tender Hooligan by The Smiths
Sweet Little Sixteen by Chuck Berry
Sweet Soul Music by Arthur Conley
List Songs
T
21 Things I Want in a Lover by Alanis Morissette
Teachers by Daft Punk
Technologic by Daft Punk
Telefonbuchpolka by Georg Kreisler
Ten Commandments of Love by The Moonglows
Ten Crack Commandments by The Notorious B.I.G.
That Is the End of the News from Sigh No More
There Is Nothing Like a Dame by Richard Rodgers
These Foolish Things by Eric Maschwitz and Jack Strachey
They All Fall In Love by Cole Porter
They All Laughed by George Gershwin and Ira Gershwin
Things to Do (I've Tried) by David Byrne
The Things You Left Behind by The Nails
Third Uncle by Brian Eno
Thou Shalt Not from Bar Mitzvah Boy
Tie Me Kangaroo Down, Sport by Rolf Harris
Till the End of Time by Buddy Kaye and Ted Mossman
To Keep My Love Alive from the musical A Connecticut Yankee
To Kokoraki by the Cockerel
Transmetropolitan by The Pogues
Tschaikowsky (and Other Russians) by Ira Gershwin
Turn a Blind Eye by Half Man Half Biscuit
Turn! Turn! Turn! by Pete Seeger
The Twelve Beers of Christmas by Bob & Doug McKenzie
More songs with lists in the lyrics:
V
Van Lingle Mungo by Dave Frishberg
W
Wakko's America from Animaniacs
Waters of March by Antonio Carlos Jobim
The Way We Make a Broken Heart by John Hiatt
We Care a Lot by Faith No More
We Got Love by Bobby Rydell
We Got More Soul by Dyke & the Blazers
What a Wonderful World by Thiele and Weiss
What Do You Want From Life by The Tubes
Whatever Happened to Randolph Scott by the Statler Brothers
What Shall We Do Now? by Pink Floyd
When I Had a Uniform On by Cole Porter
Wishing the Days Away by Billy Bragg
Who's Next by Tom Lehrer
The Whole World Lost its Head by Go-Go's
White Boys from the musical Hair
Why Do the Wrong People Travel by Noël Coward
Wish (Komm Zu Mir) from the film Run Lola Run
Wishlist by Pearl Jam
Women's Love Rights by Laura Lee
X – Z
Yakko's World from Animaniacs
You Can't Get a Man with a Gun from Annie Get Your Gun
You're the Top by Cole Porter
You've Seen Harlem at Its Best by Ethel Waters
Zip by Rodgers and Hart
Music lovers: be sure to check out these other song-related lists:
Best Singer-Songwriters of the 1970s
60 Best Song Quotes and Singing Sayings
15 Best Driving Songs: A Playlist for the Open Road
Best TV Theme Songs Lyrics & Videos