Adventure Quotes, Sayings
Find inspiration for new journeys and experiences with these adventure quotes!
These words encourage us to step outside of our comfort zones, to explore the world around us, and to live our lives to the fullest. They remind us that life is meant to be lived, not simply endured.
So whether you're planning a big trip or just looking for a little motivation to get out of the house, use these sayings to get into the right mindset. They can also be a source of comfort and support when you're facing challenges on your journey.
Best adventure quotes
We've assembled a list of the best adventure quotes to inspire adventure seekers, explorers, and lovers of the open road alike. We hope they encourage you to take the first step of your next journey.
1. Short adventure quotes for Instagram
Life is either a daring adventure or nothing at all.
Helen Keller
Life shrinks or expands in proportion to one's courage.
Anais Nin
Don't count the days, make the days count.
Mohammad Ali
If you don't take risks, you'll have a wasted soul.
Drew Barrymore
I feel the need to endanger myself every so often.
Tim Daly
It's time to remember what it's like to feel alive.
Unknown
The only impossible journey is the one you never begin.
Tony Robbins
To live will be an awfully big adventure.
Peter Pan
Life begins at the end of your comfort zone.
Neale Donald Walsch
Spontaneity is the best kind of adventure.
Unknown
2. Funny adventure quotes
If we were meant to stay in one place, we'd have roots instead of feet.
Rachel Wolchin
Adventures do occur, but not punctually.
E.M. Forster
We are plain quiet folk and have no use for adventures. Nasty disturbing uncomfortable things! Make you late for dinner!
J.R.R. Tolkien, The Hobbit
An adventure is only an inconvenience rightly considered. An inconvenience is only an adventure wrongly considered.
G.K. Chesterton
No, no! The adventures first, explanations take such a dreadful time.
Lewis Carroll
If you think adventure is dangerous, try routine; it's lethal.
Paulo Coelho
3. Famous adventure quotes
A journey of a thousand miles begins with a single step.
Lao Tzu
It's not the mountain we conquer, but ourselves.
Sir Edmund Hillary
The world is big and I want to have a good look at it before it gets dark.
John Muir
An adventure is something that while it's happening you wish it wasn't.
Mark Twain
From authors and books
Not all who wander are lost.
J.R.R. Tolkien
So shut up, live, travel, adventure, bless and don't be sorry.
Jack Kerouac
Let us step into the night and pursue that flighty temptress, adventure.
J.K. Rowling
I went to the woods because I wished to live deliberately, to front only the essential facts of life, and see if I could not learn what it had to teach.
Henry David Thoreau
It's not the destination, it's the journey.
Ralph Waldo Emerson
Two roads diverged in a wood, and I
I took the one less traveled by,
And that has made all the difference.
Robert Frost
It's a dangerous business, Frodo, going out your door. You step onto the road, and if you don't keep your feet, there's no knowing where you might be swept off to.
J.R.R. Tolkien
I love to sail forbidden seas, and land on barbarous coasts.
Herman Melville, Moby-Dick
From movies
To infinity and beyond!
Buzz Lightyear, Toy Story
I want an adventure in the great wide somewhere.
Belle, Beauty & The Beast
Adventure is out there.
Up, Disney movie
From songs
Get your motor runnin'
Head out on the highway
Looking for adventure
In whatever comes our way.
Steppenwolf, Born to Be Wild
On the road again
Goin' places that I've never been
Seein' things that I may never see again
And I can't wait to get on the road again.
Willie Nelson, On the Road Again
From proverbs
If you want to go fast, go alone. If you want to go far, go together.
African proverb
A life lived in fear is a life half lived.
Spanish proverb
Don't listen to what they say. Go see.
Chinese proverb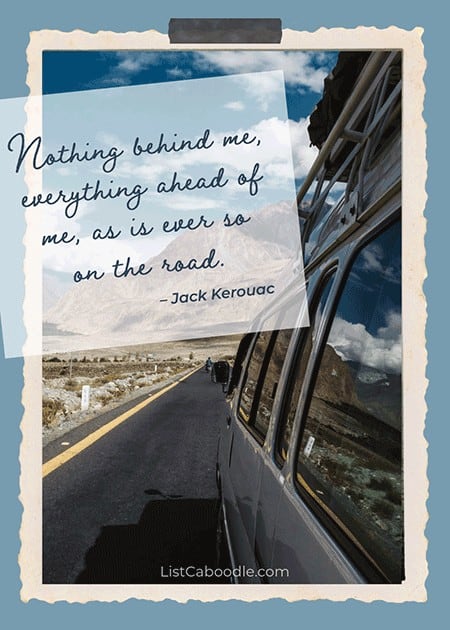 4. Adventure quotes about love and romance
Love, like everything else in life, should be a discovery, an adventure, and like most adventures, you don't know you're having one until you're right in the middle of it.
E.A. Bucchianeri
Fall in love with someone
who tastes like adventure
but looks like
the calm, beautiful morning
after a terrible storm.
Nikita Gill
Never fear quarrels, but seek hazardous adventures.
Alexandre Dumas
May your adventures bring you closer together, even as they take you far away from home.
Trenton Lee Stewart
With you
Actually, the best gift you could have given her was a lifetime of adventures.
Lewis Carroll
As soon as I saw you, I knew a grand adventure was about to happen.
Winnie The Pooh
About friendship
Life was meant for good friends and great adventures.
Unknown
Being soaked alone is cold. Being soaked with your best friend is an adventure.
Emily Wing Smith
5. Inspirational adventure quotes
Adventure is not outside man; it is within.
George Eliot
I have discovered that even the mediocre can have adventures and even the fearful can achieve.
Edmund Hillary
Wherever you go, go with all your heart.
Confucius
I do not want to get to the end of my life and find that I just lived the length of it. I want to have lived the width of it as well.
Diane Ackerman
Man cannot discover new oceans unless he has the courage to lose sight of the shore.
Andre Gide
Motivational sayings
The danger of adventure is worth a thousand days of ease and comfort.
Paulo Coelho
Attitude is the difference between an ordeal and an adventure.
Bob Bitchin
Every adventure starts with a curious mind and a brave heart.
Unknown
Adventure isn't hanging off a rope on the side of a mountain. Adventure is an attitude we must apply to the day to day obstacles of life.
John Amat
About goals
Life should not be a journey to the grave with the intention of arriving safely in a pretty and well preserved body, but rather to skid in broadside in a cloud of smoke, thoroughly used up, totally worn out, and loudly proclaiming "Wow! What a Ride!"
Hunter S. Thompson
I know not all that may be coming, but be it what it will, I'll go to it laughing.
Herman Melville
The struggles we endure today will be the 'good old days' we laugh about tomorrow.
Aaron Lauritsen
6. Adventure quotes about life
A man practices the art of adventure when he breaks the chain or routine and renews his life through reading new books, traveling to new places, making new friends, taking up new hobbies, and adopting new viewpoints.
Wilfred Peterson
We live in a wonderful world that is full of beauty, charm and adventure. There is no end to the adventures we can have if only we seek them with our eyes open.
Jawaharial Nehru
Adventure isn't hanging on a rope off the side of a mountain. Adventure is an attitude that we must apply to the day to day obstacles in life.
John Amatt
The real voyage of discovery consists not in seeking new landscapes, but in having new eyes.
Marcel Proust
Adventure is a path. Real adventure, self-determined, self-motivated, often risky, forces you to have firsthand encounters with the world.
Mark Jenkins
The purpose of life is to live it, to taste experience to the utmost, to reach out eagerly and without fear for newer and richer experience.
Eleanor Roosevelt
About happiness
If happiness is the goal — and it should be, then adventures should be top priority.
Richard Branson
Happy memories about big adventures make the best stories.
Unknown
To venture causes anxiety, but not to venture is to lose one's self. And to venture in the highest is precisely to be conscious of one's self.
Søren Kierkegaard
Adventure works in any strand — it calls to those who care more for living than for their lives.
Amal El-Mohtar
About dreams
The biggest adventure you can ever take is to live the life of your dreams.
Oprah Winfrey
It does not do to dwell on dreams and forget to live.
Dumbledore, Harry Potter
The very basic core of a man's living spirit is his passion for adventure.
Christopher McCandless
About work
Jobs fill your pockets, but adventures fill your soul.
Jaime Lyn
7. Adventure quotes about travel
There's only one place I want to go and it's to all the places I've never been.
Nikki Rowe
One does not discover new lands without consenting to lose sight of the shore for a very long time.
André Gide
Adventure is a mindset, not a destination.
Unknown
Travel is not really about leaving our homes, but leaving our habits.
Pico Iyer
To awaken quite alone in a strange town is one of the pleasantest sensations in the world. You are surrounded by adventure.
Freya Stark
Some journeys take us far from home. Some adventures lead us to our destiny.
The Chronicles of Narnia: The Lion, The Witch & The Wardrobe
About road trips
Strong and content, I travel the open road.
Walt Whitman
What is that feeling when you're driving away from people and they recede on the plain till you see their specks dispersing? It's the too-huge world vaulting us, and it's good-bye. But we lean forward to the next crazy venture beneath the skies.
Jack Kerouac
Stop worrying about the potholes in the road and enjoy the journey.
Babs Hoffman
Not till we are completely lost or turned around do we begin to find ourselves.
Henry David Thoreau
Nothing behind me, everything ahead of me, as is ever so on the road.
Jack Kerouac
About biking
Sometimes the most scenic roads in life are the detours you didn't mean to make.
Angela N. Blount
Roads were made for journeys, not destinations.
Confucius
If you don't know where you are going, any road will get you there.
Lewis Carroll
About hiking
The best view comes after the hardest climb.
Unknown
I wandered everywhere, through cities and countries wide. And everywhere I went, the world was on my side.
Roman Payne
About nature
Wilderness is not a luxury but necessity of the human spirit.
Edward Abbey
What is a Wanderess? Bound by no boundaries, contained by no countries, tamed by no time, she is the force of nature's course.
Roman Payne
8. Adventure quotes for kids
Oh the places you'll go!
Dr. Seuss
Then one day, when you least expect it, the great adventure finds you.
Ewan Mcgregor
For students
Some adventures require nothing more than a willing heart and the ability to trip over the cracks in the world.
Seanan McGuire
I may not have gone where I intended to go, but I think I have ended up where I intended to be.
Douglas Adams
The world is not in your books and maps, it's out there.
Gandalf, The Hobbit
Only those who risk going too far can possibly find out how far they can go.
T.S Eliot
In wisdom gathered over time I have found that every experience is a form of exploration.
Ansel Adams
The most dangerous thing you can do in life is play it safe.
Casey Neistat
Keep reading. It's one of the most marvelous adventures that anyone can have.
Lloyd Alexander
For graduation
I see my path, but I don't know where it leads. Not knowing where I'm going is what inspires me.
Rosalia de Castro
Take every chance you get in life, because some things only happen once.
Karen Gibbs
Here's to freedom, cheers to art. Here's to having an excellent adventure and may the stopping never start.
Jason Mraz
More inspiring graduation quotes.
If you don't get out of the box you've been raised in, you won't understand how much bigger the world is.
Angelina Jolie
The world is full of wonderful things you haven't seen yet. Don't ever give up on the chance of seeing them.
J.K. Rowling
Until you step into the unknown, you don't know what you're made of.
Roy T. Bennett
Life is a blank canvas, and you need to throw all the paint on it you can.
Danny Kaye
---
We hope that these adventure quotes inspire you to embark on your own adventures and live your life to the fullest!