These dream quotes from famous authors, celebrities, and philosophers will inspire you to reach for the stars and dream big.
Dreams are your imagination, they are your hopes, they are your aspirations and they are your expectations. Dreams are where you are headed, they are your destiny.
With hard work, dedication, and a bit of luck, you can make your dreams a reality. Let these famous quotes and sayings be your inspiration.
1. Inspirational dream quotes
Make your dreams come true with these inspirational dream quotes.
Dare to live the life you have dreamed for yourself. Go forward and make your dreams come true.
Ralph Waldo Emerson
Whatever you do, or dream you can, begin it. Boldness has genius and power and magic in it.
Johann Wolfgang von Goethe
Yes: I am a dreamer. For a dreamer is one who can only find his way by moonlight, and his punishment is that he sees the dawn before the rest of the world.
Oscar Wilde
Twenty years from now you will be more disappointed by the things that you didn't do than by the ones you did do. So throw off the bowlines. Sail away from the safe harbor. Catch the trade winds in your sails. Explore. Dream. Discover.
H. Jackson Brown Jr.
I dream my painting and I paint my dream.
Vincent Willem van Gogh
Dream no small dreams for they have no power to move the hearts of men.
Johann Wolfgang von Goethe
Far away there in the sunshine are my highest aspirations. I may not reach them, but I can look up and see their beauty, believe in them, and try to follow where they lead.
Louisa May Alcott
Famous inspirational quotes
I have a dream that one day this nation will rise up and live out the true meaning of its creed: 'We hold these truths to be self-evident, that all men are created equal.
Martin Luther King Jr.
Every great dream begins with a dreamer. Always remember, you have within you the strength, the patience, and the passion to reach for the stars, to change the world.
Harriet Tubman
Never give up on what you really want to do. The person with big dreams is more powerful than the one with all the facts.
Albert Einstein
Dream big – dream very big. Work hard – work very hard. And after you've done all you can, you stand, wait, and fully surrender.
Oprah Winfrey
A dream doesn't become reality through magic; it takes sweat, determination, and hard work.
Colin Powell
I like the dreams of the future better than the history of the past.
Thomas Jefferson
Motivational sayings
The future belongs to those who believe in the beauty of their dreams.
Eleanor Roosevelt
There is only one thing that makes a dream impossible to achieve: the fear of failure.
Paulo Coelho
No matter how your heart is grieving, if you keep on believing, the dreams that you wish will come true.
Walt Disney
I dream. Sometimes I think that's the only right thing to do.
Haruki Murakami
Ever tried. Ever failed. No matter. Try Again. Fail again. Fail better.
Samuel Beckett
You see things; and you say, 'Why?' But I dream things that never were; and I say, 'Why not?'
George Bernard Shaw
Ask yourself, 'How long am I going to work to make my dreams come true?' I suggest you answer, 'As long as it takes.'
Jim Rohn
Encouragement
Don't be pushed around by the fears in your mind. Be led by the dreams in your heart.
Roy T. Bennett
You are never too old to set another goal or to dream a new dream.
C.S. Lewis
We must never stop dreaming. Dreams provide nourishment for the soul, just as a meal does for the body.
Paulo Coelho
The answer is dreams. Dreaming on and on. Entering the world of dreams and never coming out. Living in dreams for the rest of time.
Haruki Murakami
Life is full of beauty. Notice it. Notice the bumble bee, the small child, and the smiling faces. Smell the rain, and feel the wind. Live your life to the fullest potential, and fight for your dreams.
Ashley Smith
Dreams can come true
You're never given a dream without also being given the power to make it true.
Richard Bach
But they say if you dream a thing more than once, it's sure to come true.
Walt Disney
Sometimes the dreams that come true are the dreams you never even knew you had.
Alice Sebold
The surest way to make your dreams come true is to live them.
Roy T. Bennett
Before your dreams can come true, you have to have those dreams.
Joyce Brothers
Success
Surround yourself with people who believe in your dreams, encourage your ideas, support your ambitions, and bring out the best in you.
Roy T. Bennett
Dream like a child, think like an elder, work like a youth.
Matshona Dhliwayo
All men dream: but not equally. Those who dream by night in the dusty recesses of their minds wake up in the day to find it was vanity, but the dreamers of the day are dangerous men, for they may act their dreams with open eyes, to make it possible.
T.E. Lawrence
I learned this, at least, by my experiment; that if one advances confidently in the direction of his dreams, and endeavors to live the life which he has imagined, he will meet with a success unexpected in common hours.
Henry David Thoreau
The only thing that will stop you from fulfilling your dreams is you.
Tom Bradley
Each dream you leave behind is a part of your future that will no longer exist.
Steve Jobs
2. Dream quotes about love
You know you're in love when you can't fall asleep because reality is finally better than your dreams.
Dr. Seuss
I think we dream so we don't have to be apart for so long. If we're in each other's dreams, we can be together all the time.
A.A. Milne, Winnie-the-Pooh
I'll let you be in my dreams if I can be in yours.
Bob Dylan
Passion
Those who dream by day are cognizant of many things which escape those who dream only by night.
Edgar Allan Poe
We are the music makers, and we are the dreamers of dreams.
Arthur William Edgar O'Shaughnessy
Romantic
I wish you to know that you have been the last dream of my soul.
Charles Dickens
I believe in everything until it's disproved. So I believe in fairies, the myths, dragons. It all exists, even if it's in your mind. Who's to say that dreams and nightmares aren't as real as the here and now?
John Lennon
Throw your dreams into space like a kite, and you do not know what it will bring back, a new life, a new friend, a new love, a new country.
Anais Nin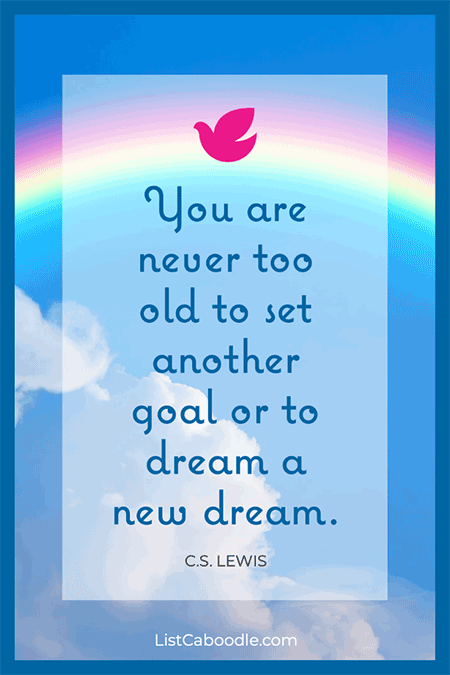 3. Dream quotes about life
Dreams are necessary to life.
Anais Nin
It does not do to dwell on dreams and forget to live.
Dumbledore, Harry Potter and the Sorcerer's Stone by J.K. Rowling
All that we see or seem is but a dream within a dream.
Edgar Allan Poe
Be brave enough to live the life of your dreams according to your vision and purpose instead of the expectations and opinions of others.
Roy T. Bennett
A dream you dream alone is only a dream. A dream you dream together is reality.
John Lennon
Our truest life is when we are in dreams awake.
Henry David Thoreau
Each man should frame life so that at some future hour fact and his dreaming meet.
Victor Hugo
Always be on the lookout for ways to nurture your dream.
Lao Tzu
Dreams are renewable. No matter what our age or condition, there are still untapped possibilities within us and new beauty waiting to be born.
Dale Turner
Living the dream
For in dreams we enter a world that is entirely our own. Let them swim in the deepest ocean or glide over the highest cloud.
Dumbledore, Harry Potter and the Prisoner of Azkaban
I don't paint dreams or nightmares, I paint my own reality.
Frida Kahlo
Our life is composed greatly from dreams, from the unconscious, and they must be brought into connection with action. They must be woven together.
Anais Nin
Dreams are real while they last. Can we say more of life?
Havelock Ellis
They say dreams are the windows of the soul — take a peek and you can see the inner workings, the nuts and bolts.
Henry Bromel
If you take responsibility for yourself you will develop a hunger to accomplish your dreams.
Les Brown
People think dreams aren't real just because they aren't made of matter, of particles. Dreams are real. But they are made of viewpoints, of images, of memories and puns and lost hopes.
Neil Gaiman, Sandman
4. Short dream quotes
A book is a dream that you hold in your hands.
Neil Gaiman
No person has the right to rain on your dreams.
Martin Luther King Jr.
You may tire of reality but you never tire of dreams.
Lucy Maud Montgomery
Nights through dreams tell the myths forgotten by the day.
C.G. Jung
If you can dream it, you can do it.
Walt Disney
Dream big, stay positive, work hard, and enjoy the journey.
Urijah Faber
Open your Eyes, for this World is only a Dream.
Rumi
Without a dream you'll not get anywhere.
Kofi Annan
Yesterday is but today's memory, tomorrow is today's dream.
Kahlil Gibran
Who looks outside, dreams; who looks inside, awakes.
Carl Jung
Dream in a pragmatic way.
Aldous Huxley
It's difficult to follow your dream. It's a tragedy not to.
Ralph Marston
Fight for your dreams, and your dreams will fight for you.
Paulo Coelho
Dreams are illustrations from the book your soul is writing about you.
Marsha Norman
All men of action are dreamers.
James Huneker
Dreams are today's answers to tomorrow's questions.
Edgar Cayce
Dreams don't work unless you do.
John C. Maxwell
No one has ever achieved greatness without dreams.
Roy T. Bennett
The dream is free. The hustle is sold separately.
Tyrese Gibson
The bridge between reality and a dream is work.
Jared Leto
If it doesn't scare you, you're probably not dreaming big enough.
Tory Burch
Dream tattoo ideas
Think, Believe, Dream, and Dare.
Walt Disney
Hope is a waking dream.
Aristotle
Dare to dream, then decide to do.
Annette White
A dream is a wish your heart makes.
Disney's Cinderella
Dream Big. Start small. Act now.
Robin S. Sharma
Never give up on your dreams.
Barack Obama
To sleep — perchance to dream.
Shakespeare, Hamlet
Dream big, because dreams do happen.
Alex Morgan
5. Dream quotes from literature
If you have built castles in the air, your work need not be lost; that is where they should be. Now put the foundations under them.
Henry David Thoreau, Walden
There are more things in Heaven and Earth, Horatio, than are dreamt of in your philosophy.
William Shakespeare, Hamlet
I have dreamt in my life, dreams that have stayed with me ever after, and changed my ideas; they have gone through and through me, like wine through water, and altered the color of my mind.
Emily Brontë, Wuthering Heights
We are such stuff as dreams are made on, and our little life is rounded with a sleep.
William Shakespeare, The Tempest
A dream, all a dream, that ends in nothing, and leaves the sleeper where he lay down, but I wish you to know that you inspired it.
Charles Dickens, A Tale of Two Cities
By famous authors
Dreams are the touchstones of our characters.
Henry David Thoreau
It is by no means an irrational fancy that, in a future existence, we shall look upon what we think our present existence, as a dream.
Edgar Allan Poe
I sleep among ravishing illusions and wake to their burden.
Virginia Woolf
A man must dream a long time in order to act with grandeur, and dreaming is nursed in darkness.
Jean Genet
A dreamer is one who can only find his way by moonlight, and his punishment is that he sees the dawn before the rest of the world.
Oscar Wilde
All human beings are also dream beings. Dreaming ties all mankind together.
Jack Kerouac
Keep away from people who try to belittle your ambitions. Small people always do that, but the really great make you feel that you, too, can become great.
Mark Twain
Deep into that darkness peering, long I stood there, wondering, fearing, doubting, dreaming dreams no mortal ever dared to dream before.
Edgar Allen Poe
What happens to a dream deferred? Does it dry up Like a raisin in the sun? Or does it explode?
Langston Hughes
Dreams pass into the reality of action. From the actions stems the dream again; and this interdependence produces the highest form of living.
Anais Nin
Yet it is in our idleness, in our dreams, that the submerged truth sometimes comes to the top.
Virginia Woolf
From poetry
I love the silent hour of night,
For blissful dreams may then arise,
Revealing to my charmed sight
What may not bless my waking eyes.
Anne Brontë
Had I the heavens' embroidered cloths,
Enwrought with golden and silver light,
The blue and the dim and the dark cloths
Of night and light and the half light,
I would spread the cloths under your feet:
But I, being poor, have only my dreams;
I have spread my dreams under your feet;
Tread softly because you tread on my dreams.
William Butler Yeats
I am nothing.
I'll never be anything.
I couldn't want to be something.
Apart from that, I have in me all the dreams in the world.
Fernando Pessoa
6. Dream quotes from famous scientists, philosophers
The dream is the small hidden door in the deepest and most intimate sanctum of the soul.
Carl Jung
Never limit yourself because of others' limited imagination; never limit others because of your own limited imagination.
Mae Jemison
All men whilst they are awake are in one common world: but each of them, when he is asleep, is in a world of his own.
Plutarch
A dream is a microscope through which we look at the hidden occurrences in our soul.
Erich Fromm
Dream is not that which you see while sleeping it is something that does not let you sleep.
A.P.J. Abdul Kalam
We have forgotten the age-old fact that God speaks chiefly through dreams and visions.
Carl Jung
Dream quotes from TV, movies, songs
In the face of everything, in the face of life, the true dream is being able to dream.
Grey's Anatomy
Dreams make good stories, but everything important happens when we're awake.
Duncan Idaho, Dune
You may say I'm a dreamer, but I'm not the only one. I hope someday you'll join us. And the world will live as one.
John Lennon, Imagine
7. Cute and funny dream quotes
Some people see things that are and ask, 'Why?', some people dream of things that never were and ask, 'Why not?' Some people have to go to work and don't have time for all that.
George Carlin
I used to think as I looked out on the Hollywood night — there must be thousands of girls sitting alone like me, dreaming of becoming a movie star. But I'm not going to worry about them. I'm dreaming the hardest.
Marilyn Monroe
A man is not old until regrets take the place of dreams.
John Barrymore
The best reason for having dreams is that in dreams no reasons are necessary.
Ashleigh Brilliant
Dreams say what they mean, but they don't say it in daytime language.
Gail Godwin
8. Dream captions for Instagram, WhatsApp
Add a fun and creative caption about your dreams to social media posts:
Let your dreams be your wings.
Your dream doesn't have an expiration date.
It's never too lat to focus on your dreams.
Follow your dreams, they know the way.
Dream. Believe. Achieve.
I don't call it a dream. I call it a plan.
Never give up on your dreams.
Don't dream you life, live your dreams.
If you can dream it, you can do it.
It all starts with a dream.
Living the dream.
Dream big, dream very big.
Work hard, dream big.
Dream a little dream of me.
Wish, hope, dream. Then make it happen.
Dream like they will all come true.
Everything starts with a dream.
Chase your dreams.
Dream baby dream.
Don't follow your dreams, chase them.
One team, one dream.
It's all just a dream.
---
Thanks for reading these dream quotes and sayings. Here are more interesting dream lists: