Wanderlust Quotes, Sayings
Inspire your next adventure with this collection of wanderlust quotes and sayings!
Wanderlust has captivated humans for centuries. It is the yearning to explore new places, immerse oneself in different cultures, and discover the unknown.
But wanderlust is not just about visiting new destinations; it is about the journey itself, the experiences along the way, and the personal growth that comes from stepping outside of our comfort zones.
Best wanderlust quotes
These wanderlust quotes show us what is gained when we embrace the unknown and discover the world anew; we open our minds to new experiences, connect with different cultures, and ultimately learn more about ourselves.
Hopefully these quotes and sayings will inspire your next journey of discovery.
1.) All that is gold does not glitter,
Not all those who wander are lost.
J.R.R. Tolkien
2.) Take only memories, leave only footprints.
Chief Seattle
3.) There's only one place I want to go and it's to all the places I've never been.
Nikki Rowe
4.) Sometimes when you lose your way, you find yourself.
Mandy Hale
5.) So much of who we are is where we have been.
William Langewiesche
6.) The world is a book and those who don't travel read only one page.
St. Augustine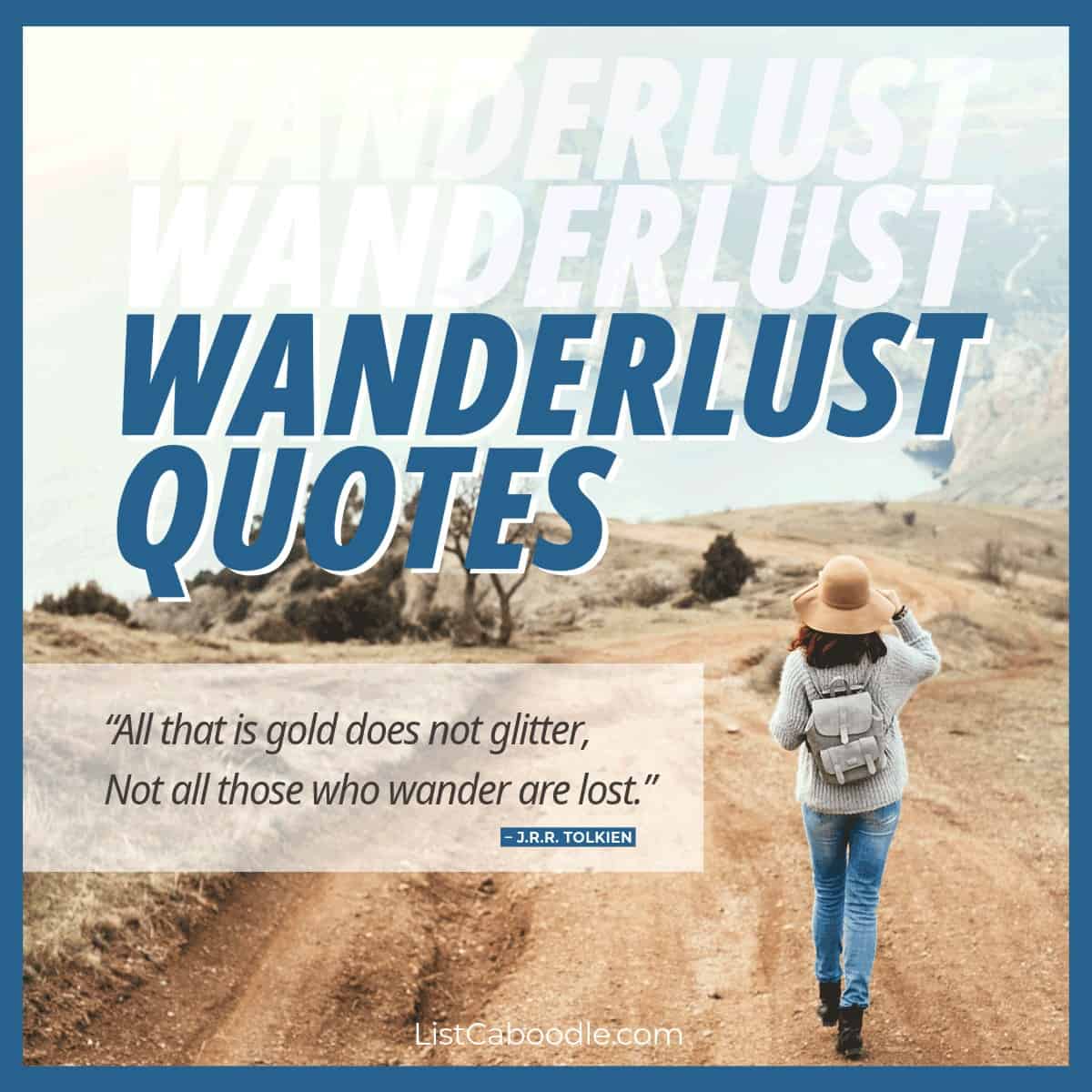 Short wanderlust quotes for Instagram
7.) Live without excuses, travel without regret.
Oscar Wilde
8.) Never be afraid to travel on a new path.
Lailah Gifty Akita
9.) I am not the same, having seen the moon shine on the other side of the world.
Mary Anne Radmacher
10.) Have we ever thought that being lost is our destination?
Craig D. Lounsbrough
11.) Sometimes it takes a wrong turn to get you to the right place.
Mandy Hale
Wanderlust captions
12.) Never stop wandering into wonder.
Suzy Kassem
13.) If the path be beautiful, let us not ask where it leads.
Anatole France
14.) I tramp a perpetual journey.
Walt Whitman
15.) A journey of a thousand miles begins with a single step.
Lao Tzu
16.) Some beautiful paths can't be discovered without getting lost.
Erol Ozan
17.) The Wanderlust has got me by the belly-aching fire.
Robert W. Service
Famous wanderlust quotes
18.) No man ever steps in the same river twice, for it's not the same river and he's not the same man.
Heraclitus
19.) For me, becoming isn't about arriving somewhere or achieving a certain aim. I see it instead as forward motion, a means of evolving, a way to reach continuously toward a better self. The journey doesn't end.
Michelle Obama
20.) Where are we headed? Are we not endlessly plunging — backwards, sideways, forwards, in all directions? Is there an up and a down anymore? Do we not wander as if through an endless nothingness? Do we not feel the breath of empty space? Hasn't it grown colder?
Friedrich Nietzsche
21.) He found himself wondering at times, especially in the autumn, about the wild lands, and strange visions of mountains that he had never seen came into his dreams.
J.R.R. Tolkien
From authors & books
22.) Because he had no place he could stay in without getting tired of it and because there was nowhere to go but everywhere, keep rolling under the stars.
Jack Kerouac, On the Road
23.) Nostalgia in reverse, the longing for yet another strange land, grew especially strong in spring.
Vladimir Nabokov
24.) You're not sorry to go, of course. With people like us our home is where we are not. No one person in the world is necessary to you or to me.
F. Scott Fitzgerald
25.) That's the place to get to — nowhere. One wants to wander away from the world's somewheres, into our own nowhere.
D.H. Lawrence
26.) I travel not to go anywhere, but to go. I travel for travel's sake. The great affair is to move.
Robert Louis Stevenson
From songs
27.) Get your motor running'
Head out on the highway
Looking for adventure
In whatever comes our way.
Born to Be Wild, Steppenwolf
28.) And though the road is rocky
Sure feels good to me.
Rainbow Country, Bob Marley
From poetry
29.) Not I, nor anyone else can travel that road for you.
You must travel it by yourself.
It is not far. It is within reach.
Perhaps you have been on it since you were born, and did not know.
Perhaps it is everywhere — on water and land.
Walt Whitman, Leaves of Grass
30.) There's a race of men that don't fit in,
A race that can't sit still;
So they break the hearts of kith and kin, And they roam the world at will.
They range the field and rove the flood,
And they climb the mountain's crest; Their's is the curse of the gypsy blood,
And they don't know how to rest.
Robert Service
Inspirational wanderlust quotes
31.) Only those who risk going too far can find out how far one can go.
T.S. Eliot
32.) We travel, some of us forever, to seek other states, other lives, other souls.
Anaïs Nin
33.) Travel and change of place impart new vigor to the mind.
Seneca
34.) I wandered everywhere, through cities and countries wide. And everywhere I went, the world was on my side.
Roman Payne
35.) Everything I was I carry with me, everything I will be lies waiting on the road ahead.
Ma Jian
Motivational sayings
36.) Once a year, go someplace you've never been before.
Dalai Lama
37.) A good traveler has no fixed plans, and is not intent on arriving.
Lao Tzu
38.) If you find yourself drawn to an event against all logic, go. The universe is telling you something.
Gloria Steinem
39.) A person does not grow from the ground like a vine or a tree, one is not part of a plot of land. Mankind has legs so it can wander.
Roman Payne
40.) It sounds so far away and different. I like different places. I like any places that isn't here.
Edna Ferber
Wanderlust quotes about the journey
41.) There ain't no journey that don't change you some.
David Mitchell
42.) A journey is like marriage. The certain way to be wrong is to think you control it.
John Steinbeck
43.) The Sun will rise and set regardless. What we choose to do with the light while it's here is up to us. Journey wisely.
Alexandra Elle
44.) It is good to have an end to journey toward; but it is the journey that matters, in the end.
Ursula K. Le Guin
45.) All journeys have secret destinations of which the traveler is unaware.
Martin Buber
46.) Once you have traveled, the voyage never ends but is played out over and over again in the quietest chambers. The mind can never break off from the journey.
Pat Conroy
About exploration
47.) See the world. It's more fantastic than any dream made or paid for in factories. Ask for no guarantees, ask for no security.
Ray Bradbury
48.) One does not discover new lands without consenting to lose sight of the shore for a very long time.
André Gide
49.) To awaken alone in a strange town is one of the pleasantest sensations in the world.
Freya Stark
50.) We travel, some of us forever, to seek other places, other lives, other souls.
Anais Nin
Wanderlust quotes about life
51.) To move, to breathe, to fly, to float, to gain all while you give, to roam the roads of lands remote, to travel is to live.
Hans Christian Andersen
52.) The life you have led doesn't need to be the only life you have.
Anna Quindlen
53.) Sometimes the most scenic roads in life are detours you didn't mean to take.
Angela Blount
54.) Life is either a daring adventure or nothing at all.
Helen Keller
55.) Traveling tends to magnify all human emotions.
Peter Hoeg
About love
56.) There's something about arriving in new cities, wandering empty streets with no destination. I will never lose the love for the arriving, but I'm born to leave.
Charlotte Eriksson
Deep wanderlust quotes
57.) The seeker embarks on a journey to find what he wants and discovers, along the way, what he needs.
Wally Lamb
58.) The greatest thing in this world is not so much where we stand as in what direction we are moving.
Johann Wolfgang von Goethe
59.) Travel makes one modest. You see what a tiny place you occupy in the world.
Gustave Flaubert
60.) The real voyage of discovery consists not in seeking new landscapes, but in having new eyes.
Marcel Proust
About the wanderlust soul
61.) I am much inclined to live from my rucksack, and let my trousers fray as they like.
Herman Hesse
62.) A person susceptible to "wanderlust" is not so much addicted to movement as committed to transformation.
Pico Iyer
63.) She is free in her wildness, she is a wanderess, a drop of free water. She knows nothing of borders and cares nothing for rules or customs. 'Time' for her isn't something to fight against. Her life flows clean, with passion, like fresh water.
Roman Payne
64.) Successful people enjoy the journeys they embark on, irrespective of whether they reach their destination or not.
Zain Hashmi
Nature wanderlust quotes
65.) What is a Wanderess? Bound by no boundaries, contained by no countries, tamed by no time, she is the force of nature's course.
Roman Payne
66.) All my life i have lived and behaved very much like the sandpiper just running down the edges of different countries and continents, looking for something.
Elizabeth Bishop
Travel wanderlust quotes
67.) We wander for distraction, but we travel for fulfillment.
Hilaire Belloc
68.) With age, comes wisdom. With travel, comes understanding.
Sandra Lake
69.) Traveling — it leaves you speechless, then turns you into a storyteller.
Ibn Battuta
---
We hope these wanderlust quotes inspire you to begin your next adventure, no matter how big or how small!